By Candide McDonald & Lindy Hughson.
The rules of marketing are changing fast, and as they do, packaging looks set to become one of the most important forms of media that connects millennials to brands.
Millennials don't play by the rules. That, no doubt, contributes to the misconception that they are narcissistic, vain, selfish and uninterested in anything that doesn't relate to their lives directly. In truth, it's that no other generation has had so many ways to express itself. Millennials are just using what is available to explore and confirm who they are. This is, or has been, a rite of passage for everyone since moving into adulthood began.
But the fact that millennials don't play by the traditional rules of marketing has important consequence for brands. They don't hang out on TV, in print or on radio, because they have other options. And they're not at all receptive to being told what they should or shouldn't buy by brands, because they have the means to find out everything they need to know – all by themselves.
With the world's leading tech companies, including Microsoft, Apple, Samsung, Huawei, LG, Acer, Intel, Meta, Magic Leap, and ODG, all working feverishly to make mixed reality part of everyday life in the very near future, packaging may well become one of the most important forms of media that connects millennials to brands.
Packaging that activates mixed media could become the on-shelf and in-hand catalyst that enables millennials to find out everything they need to know about brands – all by themselves, as well as being how brands "talk" to and play with millennials to get them to engage with them. But even without mixed reality's ability to turn packaging into next-generation websites filled with 3D content that users can touch, hold, speak to, and learn from, packaging can still be the door that gives brands access to millennials' attention.
As the founder of UK company GBH Design, Mark Bonner, puts it in his foreword to Silas Amos's book Digital Print. A Bigger Spectrum, "Our audience is on the move and we need to move with them. Which media will they consume our [brand] story in first? Our ideas need multiple front doors. We need to catch our target in a triangulation of crossfire to get our messages heard. And no-one knows where the magic bullet will come from".
What we do know is that for millennials, their mobile phones are the font of all knowledge, an always-on entertainment provider and the preferred means of communication (trumping verbal conversations).
That does not mean that brands have a captive millennial audience on mobile. According to an Accenture study last year, 69% of those aged 18 to 24 and 64% of those between 25 and 34, know how to block ads. Globally, 41% do it. Millennials don't like to be interrupted, but there's something more fundamental – the law of attraction. Beg a millennial (or anyone else, for that matter) to "come to your party" and he or she won't want to come.
Packaging gives brands the chance to let people know they are "hosting a party" – a competition, video series, music concert, game, recipe series, background story…and provides the door that allows them to access it. That's not begging. To a millennial, that's cool.
CASE STUDY: Party like you mean it
Bud Light "created a party" on its packaging that resonated with millennials at Mad Decent Block Party music festival events held in the US and Canada in September 2015.
HP Mosaic software was used to provide customised shrink-sleeves for a limited-edition run of beer cans. Printed on an HP Indigo WS 6800 digital press, 31 designs were transformed into more than 31 million possible graphics, ultimately creating 200,000 unique can designs, with no two cans exactly alike.
Recounting this case study in Digital Print – A Bigger Spectrum, Silas Amos writes: "Mad Decent Block parties have a mission to bring new genres and cultures to light in the constantly evolving music world, while Bud Light's tagline tells us it's 'up for whatever'. Together they wanted an ethos that would amplify their spontaneous 'anything goes' ethos."
"Today's consumer is seeking unique, customised experiences," says Valerie Toothman, VP of Innovation, Anheuser-Busch (brand owner of Bud Light). "The reaction we got at the Mad Decent Block parties proved that custom graphics are indeed an impactful and relevant way to elevate a consumer's experience with the the brand."
According to Jason Beckley, business development manager HP South Pacific, "HP's 'Mosaic' software takes customisation to a new level, it allows for the creation of an almost infinite number of designs based on core patterns within a brands' visual image, and which when assembled on-shelf provides an arresting display with each printed piece unique and distinctive from the next."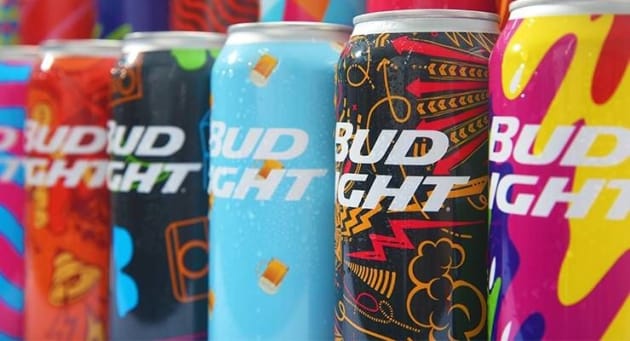 By Candide McDonald & Lindy Hughson
Sourced from Packaging News