Sourced from eMarketer.
Facebook is favored, but YouTube, Twitter and Instagram may see increases in video ad spend
More marketers currently invest in video advertising on Facebook and YouTube than on Twitter and Instagram. But they're increasing how much they spend on all four social media platforms.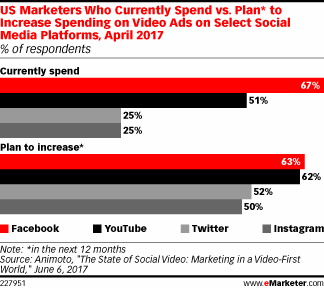 More than two-thirds (67%) of US marketers run video ads on Facebook, while more than half (51%) do so on YouTube, according to an April 2017 survey from cloud-based video creation company Animoto. By comparison, only 25% of marketers surveyed are spending on video for Twitter, with the same percentage buying video ads for Instagram.
But that doesn't mean Twitter and Instagram are falling completely by the wayside. In fact, half of marketers said they plan to increase their investment in social video advertising on Instagram in the next 12 months, and 52% plan to do the same on Twitter.
Marketers are more confident in video content on Facebook and YouTube when it comes to driving views, engagements and purchases. But videos placed on Instagram and Twitter are not that far behind, Animoto found.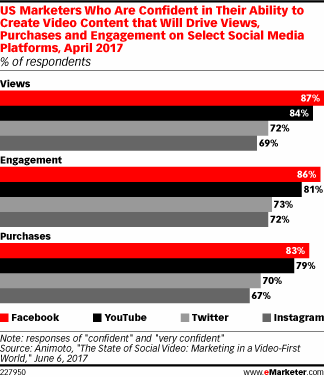 For example, 83% of respondents were confident in Facebook videos for driving purchases, while 67% were similarly assured in videos placed on Instagram.
Investment in social video advertising will likely grow if platforms can prove their units are effective. Just last week, IPG Mediabrands reported on a study of video ad units on Twitter commissioned by the microblogging platform. The research revealed that Twitter's "First View" video ads, which appear at the top of users' feeds, were on screen for significantly longer periods of time than standard, in-feed video ads.
If marketers get more insight into the performance of video ads on social media platforms and like what they see, the dollars will follow.
—Maria Minsker