By Lucija
When the world wide web first began to pick up steam, which seems like ages ago but was in fact around just 20 years ago, blogs were popping out all over the place. It was such a novelty for everyone to share their thoughts with the world. WordPress to this day has the "Hello world" default post when you start up the dashboard for the first time.
As with everything else, over time, the whole concept evolved dramatically. Nowadays, content creation, with very few successful exceptions, is a collaborative effort that might have one person at the forefront serving as the recognizable face of the business, but a whole team of people behind the scenes is cooking up the content that's published.
The number of people within a content creation team can vary widely, depending on the scope of both the content and the company/person behind it. If we're focusing on written content these teams will most certainly include writers, lecturers, designers (for image editing), and marketing experts, at the very least, with probably some niche positions like technical consultants in specific situations. The point is – there are a lot of people working together to get things done.
Every time you have multiple people working together, especially remotely, you need a very good system in place that brings it all together. Continuing with our example of publishing written content, through WordPress, you'll need something that gives everyone access to the dashboard and posts, while simultaneously securing easy communication channels for all members.
Usually, you'd just combine WordPress with Google Docs and call it a day, but we've found that combining WordPress with Multicollab brings in much better results.
Multicollab is a Google Docs-Style collaborative editing tool designed to streamline the process of creating, editing, and publishing content, especially for teams working within WordPress. It offers features akin to Google Docs but is integrated directly into the WordPress dashboard, eliminating the need for constant tab switching. Already interested? Check out the Multicollab Website now for more!
What is Multicollab?
Multicollab is an editing tool, very similar to Google Docs making it familiar enough so everyone can quickly hit the ground running, but also features advanced functions that aren't available with Google Docs. To put it even more simply, it will bring Google Docs features to your WordPress and in doing so remove the most annoying thing about using it with WordPress – the constant tab switching and refreshing. With Multicollab you'll be doing all your work within WordPress, the changes, comments, suggestions, attachments, etc. will all be added in real-time for everyone to see.
A test was conducted to see how the Multicollab-WordPress combo fares against the Google Docs-WordPress combo. The same text was used with the same changes made. When the clocks stopped ticking Multicollab proved to be over 40% faster. Just imagine what that could do for your overall efficiency. If it takes less time to publish content, and you're working a fixed number of hours you'll be able to significantly increase your output. This in turn means more content, more advertising opportunities, and more chances to attract visitors.
Multicollab in WordPress
Because WordPress uses the block-based Gutenberg editor as the default solution for creating posts it comes as no surprise that Multicollab is fully functional with said editor. Everything you're doing is through the same interface with just the added features.
We'll get into more detail about the post features, but first, we want to mention everything you'll get to use before you start writing your posts.
As this is a team collaboration tool, probably the first thing you'll want to do is assign custom permissions to all your members. We've already stated that a content team consists of many individuals, each doing their own thing to get the job done and as such, not everyone needs to have access to everything.
The process is extremely straightforward where you'll just have to tick and untick the corresponding boxes on the various activities you want to enable or disable for a team member.
Now that everyone has a role assigned to them, it's a good idea to set up Slack notifications so you and everyone else will always know when an "event" has taken place. This can range from added new added comments, to mentions and everything else in between. The process is the same as with permissions – simply check and uncheck the appropriate box for each notification.
Finally, we come to the reports and activity section which enables you to follow up on everyone's comments, tasks, suggestions, etc. in one place. It's site-wide, so the initial data might be too incomprehensive, but there are a couple of filters that will enable you to narrow it down to what you really need. Although probably not equally important to each member, an overview like this is essential for team leaders who need to keep everything running smoothly.
Main Features & Pricing
Inline Comment: Allows users to add inline comments to any text or media in their blog post for review by others.
Real-Time Collaboration (Beta Version): Real-Time Co-editing in WordPress is possible now. It is still in the early beta stage. So, for now, you can only test it on our server. Click here to experience Real-Time Collaboration in WordPress.
Team Collaboration: Offers reply, resolve, and mention commenting options for collaborative work during the publishing process.
Email Notifications: Sends instant notifications when edits are made or comments assigned, facilitating team collaboration.
Suggestion Mode: Tracks the content creation process and highlights modifications in posts or pages.
Guest Collaboration: Enables inviting guest collaborators without creating WordPress user accounts.
Slack Notifications: Integrates with Slack to provide real-time updates on mentions, replies, and other comment activities.
Attach a Document to a Comment: Users can attach images or documents to their comments and replies.
Reports and Activity: Advanced Dashboard functionality provides insights into editorial workflow and tracks progress across all pages and posts.
Custom Permissions: Allows for management of who has access to add a comment, resolve comments, disable comments, or accept/reject suggestions.
Multilingual: Offers support in six languages – German, Chinese, Hindi, Spanish, French, and Bengali.
Premium Support: Email support is available anytime, with a promise of assistance within 24 hours for premium edition users.
Check out the Multicollab Pricing Page for more info now!
This also includes a 14-Day free trial offer with a 100% money-back guarantee. Multicollab is a product by Multidots, a full-service WordPress Agency and WordPress VIP Gold Agency Partner. They also offer Real-Time Feature Demo. Check it out and try this tool by yourself, it will surely fit your needs.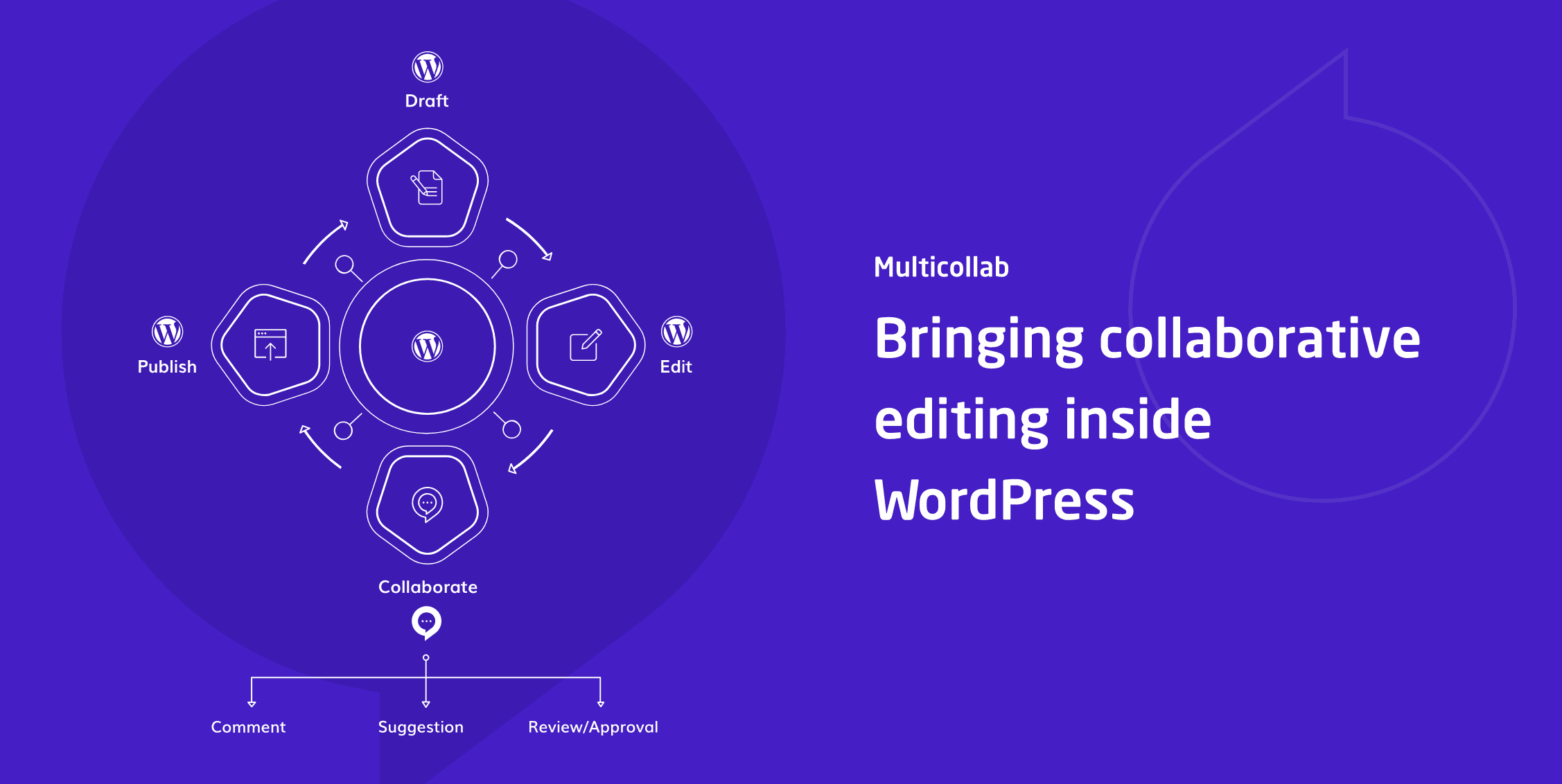 Creating a post
The real essence of Multicollab is seen when you start writing a new post. As we've mentioned, it's completely Gutenberg-ready, so if you've used the interface already, you'll feel right at home. So, once you start writing you'll notice the main body in the centre is your default editor. Within that editor, however, you'll now have added options that enable team members to communicate.
Inline comments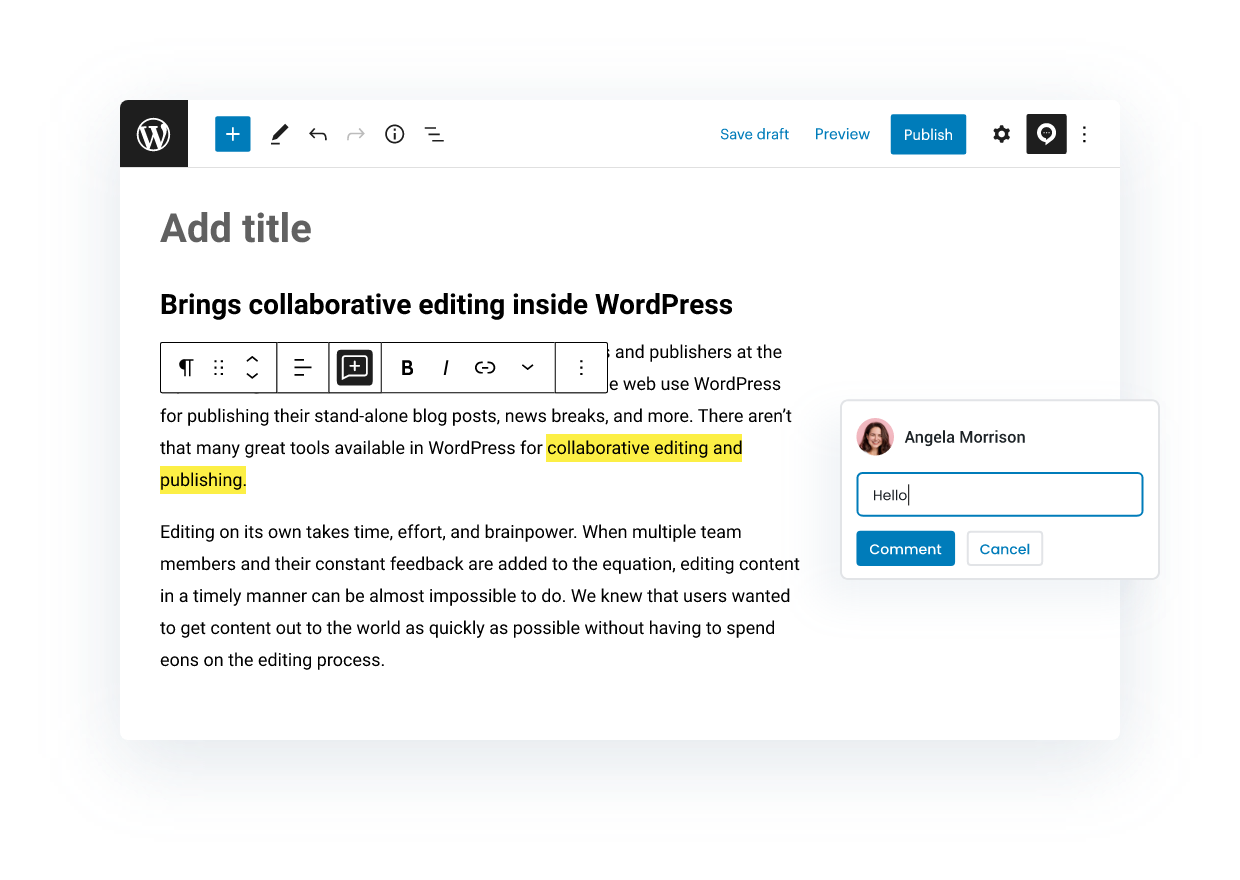 When you have multiple people working on the same text each of them needs to be able to leave comments. Once the initial text draft is complete everyone can chime in with their thoughts. Simply highlight the part of the text you wish to comment on and write your comment. It is then visible to everybody on the right-hand side. All members can comment on comments to the point when a full-blown discussion appears. We recommend that you keep it short, however, so it doesn't get too cluttered.
If you're looking to single out a member, for whatever reason, you can tag them. A notification is then sent to that member that ensures the action keeps going. Notifications can be Slack notifications, which we've already mentioned, as well as email notifications, depending on your preferences.
Suggestions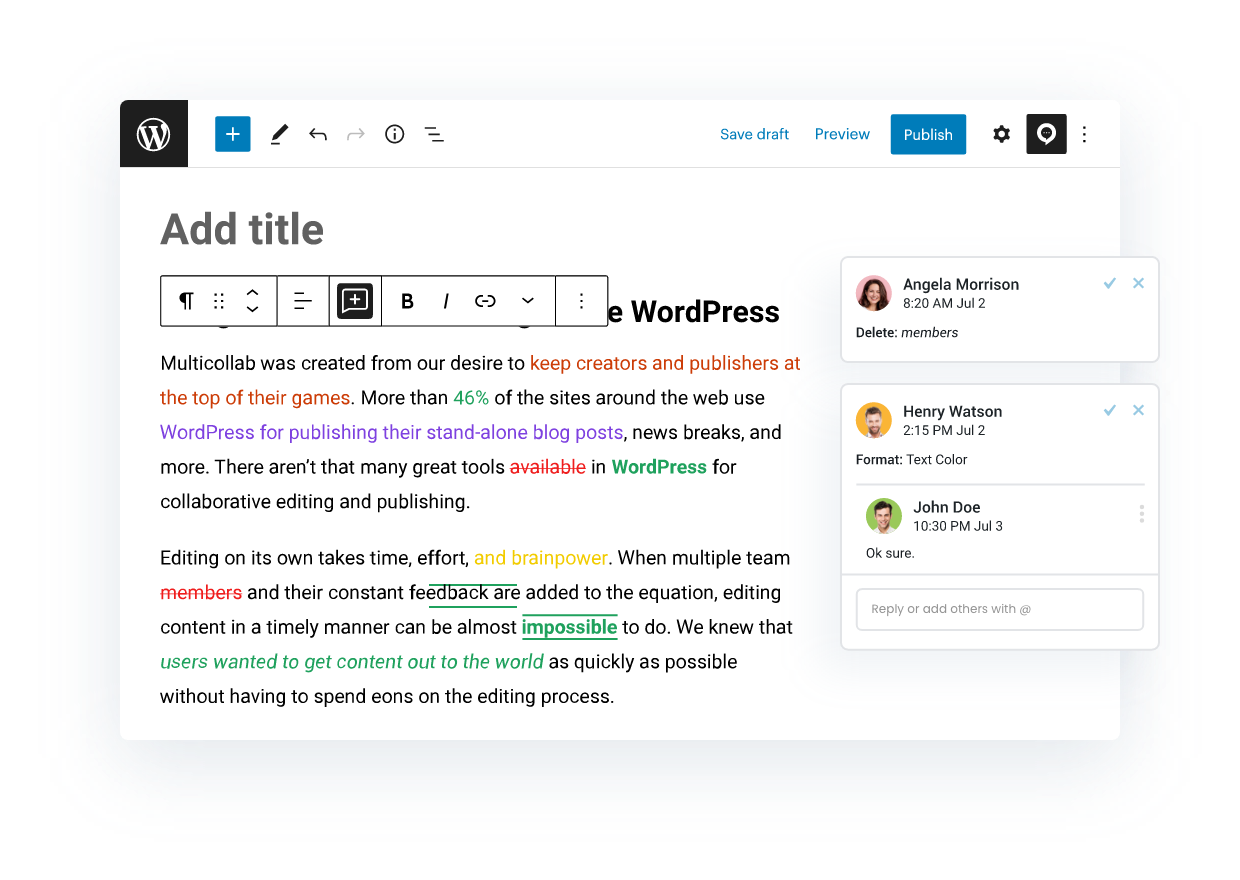 Leaving comments is all well and good, but sometimes you'll really need to emphasize a comment which is where suggestions come in. They're essentially comments themselves, only highlighted. You'll get to see the differences in the way they format the text. Suggestions color the text in various ways, so even with a glance, you can see what to focus on.
As you would guess, suggestions, unlike comments, almost always require some sort of reply and/or feedback. Suggestions aren't just added in a void, they're directed toward someone to make the appropriate changes to the text. Once the changes are done, you'll want to leave a reply that will potentially progress the suggestion conversation further.
Guest collaboration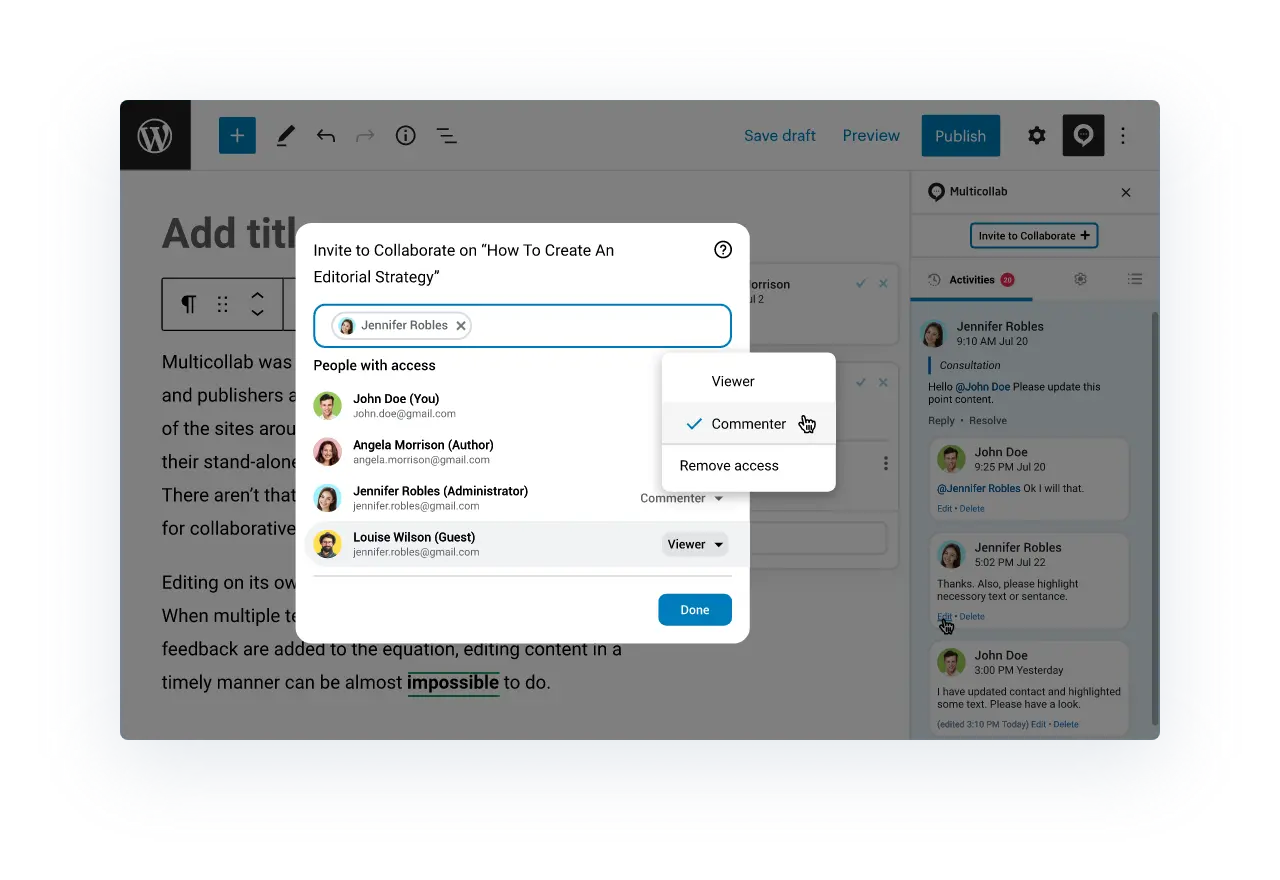 More and more blogs/sites are working regularly with guest authors nowadays. It's therefore important to know that even guests, i.e. people not on your members list that have assigned permissions can work on posts. You'll need to create a guest profile and invite them to work on the post.
These quests don't necessarily need to be writers, you can bring in outside lecturers, SEO specialists, marketing experts, etc. all with the common goal of boosting and upgrading the content you're putting out. Guests can be assigned two roles – viewer and commenter, both of which are self-explanatory.
Custom Permissions
For those who need custom permissions, administrators have the opportunity to manage custom user permissions of both individual collaborators & groups of collaborators within the Multicollab Settings Menu.
Those include adding, resolving, and disabling comments, as well as adding, accepting, or rejecting, and disabling suggestions.
Attaching documents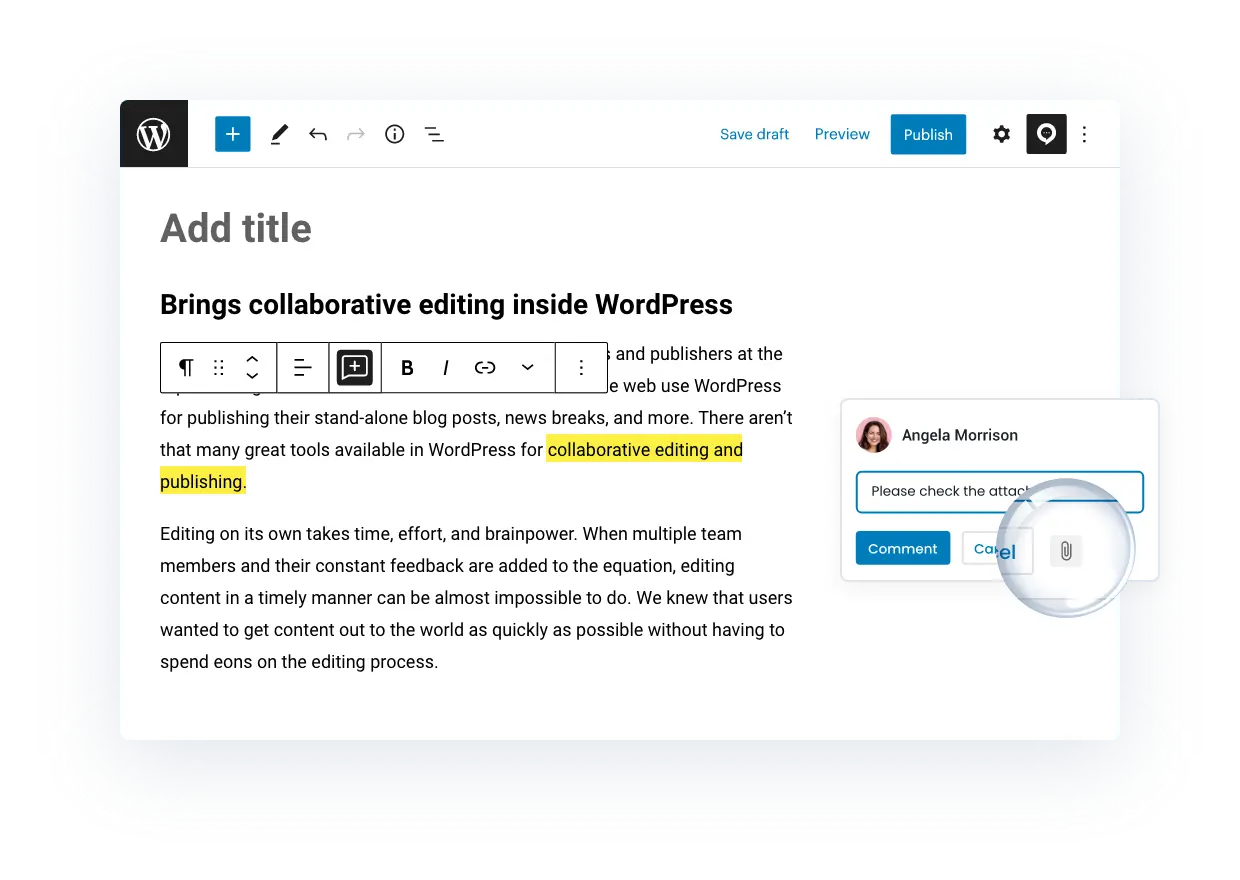 When a comment and/or suggestion aren't enough you can attach a document that will help relate better. Things like an already published article as a reference or an image that needs to be edited and added to the post are done with a simple click. If an attachment is added to the comment, the familiar paperclip icon will be visible, making it instantly recognizable to everyone.
Reports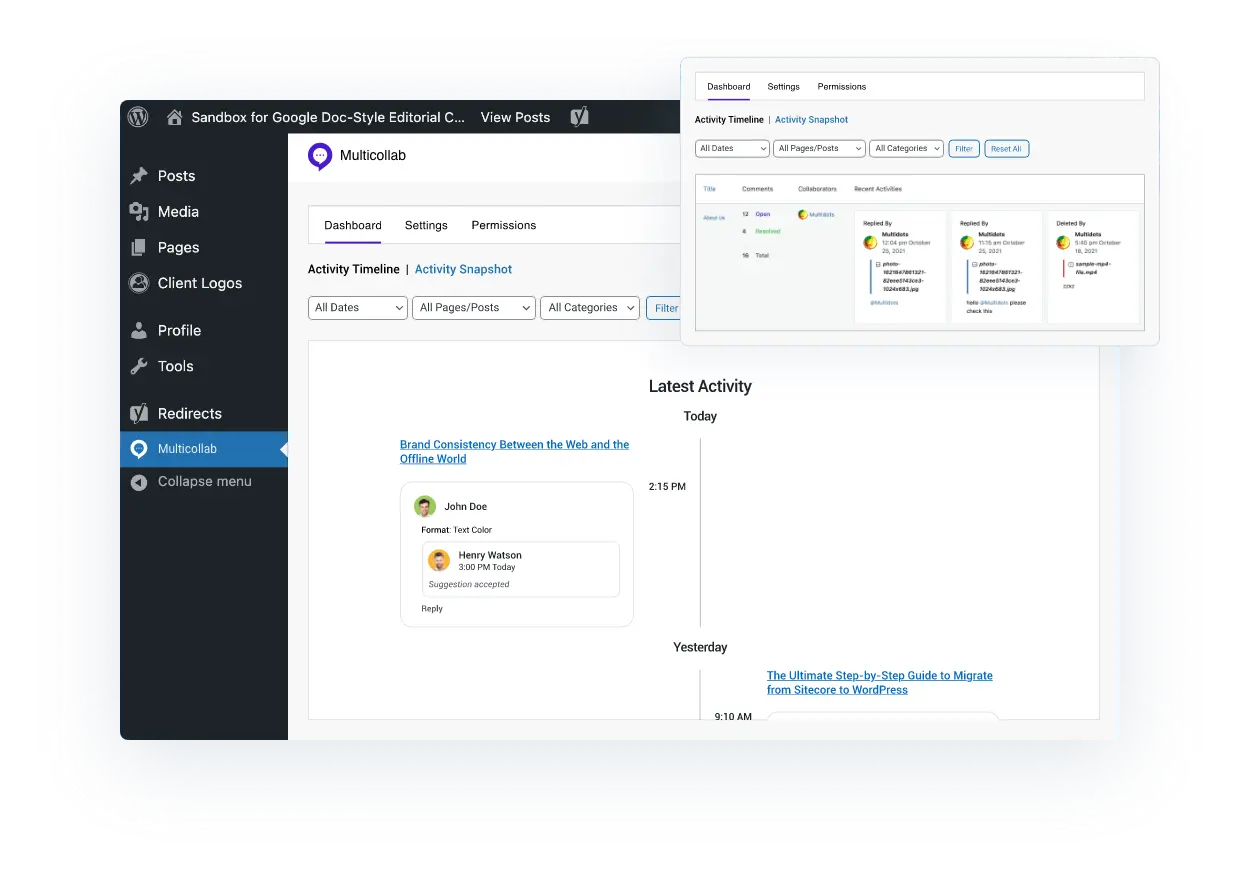 We've already touched on the overall reports and activity section – one that encompasses the entire site. Well, you can access the same information, minimized to the post you currently have opened. Go through the summary which shows all the stats, or follow up on the activities list in detail, going through it one by one. You'll never feel out of place because there's a handy counter that numbers all the new activities since you last checked, if there are any, of course.
Settings
It seems rather counterintuitive, but there is also the settings tab that lets you hide both comments and suggestions. You'll still be able to write your own, but all others will be invisible. We assume this is the author's "don't disturb" sign, where he can exercise the creative freedom, he's been given.
Conclusion
It's essential to let go of the one-man show routine once your content gets too big for you alone to handle. Yes, you'll have a little less freedom than you had when it was just you, but collaboration with other people can only benefit your content. Whether it's just in service to your writing (lecturing, marketing, etc.), or if you're ready to work with other authors on your posts, it's important to keep evolving and always striving to get bigger and better. Multicollab is the perfect tool that will let you achieve just that – a steady workflow in an already familiar environment.
Take out: Key benefits of Multicollab include:
Real-time Collaboration: It enables team members to make changes, leave comments, or add attachments in real time, ensuring everyone is on the same page.
Customizable Permissions: You can assign different roles and permissions to each team member, providing control and security over who can access and edit the content.
Integrated Communication: With in-built features for comments, suggestions, and notifications, Multicollab keeps all your team's communication within the same platform.
Efficiency: In tests, Multicollab has proven to be over 40% faster than using Google Docs in conjunction with WordPress, boosting productivity.
Guest Collaboration: Multicollab even allows guest authors or consultants to participate in the editing process, expanding the range of potential contributors.
Reporting: It offers comprehensive reporting tools for tracking comments, tasks, and suggestions, making it easy to manage and monitor progress.
In short, Multicollab enhances team collaboration, increases efficiency, and provides a seamless and integrated platform for managing content within WordPress.
Don't wait any longer – start collaborating with your team today! Give it a Try from here (14 Days – 100% No-Risk Money Back Guarantee!).
The article was originally written by Lucija