Who wins in a showdown between user-generated and brand-generated content? Below we dig into the benefits of both (and where influencer-generated content fits in).
Brands today need a high volume of high-quality content to reach social consumers.
But how much of that content should be user-generated vs brand-generated?
Good question! Increasing your social search presence and word-of-mouth means ramping up content production. Bonus points if those posts come from creators.
Chances are you're producing content in-house side-by-side with sourcing UGC. Both are valuable types of content for brands but scaling either is easier said than done.
Below we dig into the debate of user-generated content vs. brand-generated content. We'll also look at how influencer-generated content can be a scalable middle-ground.
Defining the Differences Between User-Generated Content vs. Branded Content
Although many marketers use these terms interchangeably, they are not the same.
Let's quickly recap a couple of definitions and examples so we're on the same page.
What is User-Generated Content?
User-generated content (UGC) is content published by customers promoting a product (or brand) that they love. These posts are unprompted and organic.
UGC has become a sort of catch-all phrase among marketers. The rise of UGC creators has made the definition of UGC even more confusing.
That said, "true" user-generated content is organic and created with no direct input from the brand being promoted. No compensation from the brand, either.
This is the key difference between user-generated content and both brand-generated and influencer-generated content. UGC can refer to everything from photos and videos to written content related to a product. This includes:
Product reviews and recommendations
Tutorials showcasing how products work and fit into daily routines
Stories where consumer share their personal experiences with a product
Short-form video formats like TikTok and Reels are the sources of most UGC today. Below is an example from a TikToker that went viral with a glowing review of a colour-changing lip balm she found at a dollar store.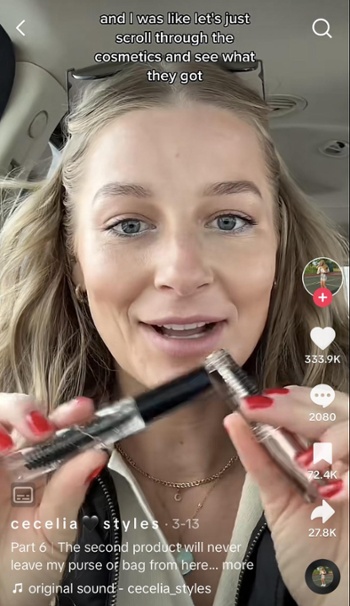 Source: @cecelia_styles
Authentic and off-the-cuff, this post is a prime example of how unprompted content can be compelling. The video's 330k "Likes" and 72k saves speak for themselves. Genuine excitement and enthusiasm are like lightning in a bottle from a marketing perspective.
The beauty of UGC is that it's totally organic and produced by real customers — not marketers.
This also highlights the biggest challenge of leveraging and collecting UGC. The fact that user-generated content comes from customers organically means it's unpredictable. This rings true in terms of its quality and the messaging conveyed by the customers.
However, this is exactly what makes a glowing user-generated post so valuable (and why consumers seek them out when researching brands).
What is Brand-Generated Content?
Brand-generated content is promotional content made by marketing teams (in-house or by agencies).  Messaging and creatives are approved and coordinated by the brand.
In short, brand-generated content represents content that your marketing team puts out. These are posts that you control over when it comes to messaging, format and publishing frequency.
Brand-generated content represents a place to establish your brand's voice, values and aesthetic. Most branded posts are created to raise awareness and keep customers in the loop.
Common examples of brand-generated posts include:
Announcements such as upcoming events, product launches and availability
Promotions, including time-sensitive offers and deals
Culture-centric content like behind-the-scenes videos showing off employee life
Below is a textbook example of a brand-generated post that builds hype for a new product.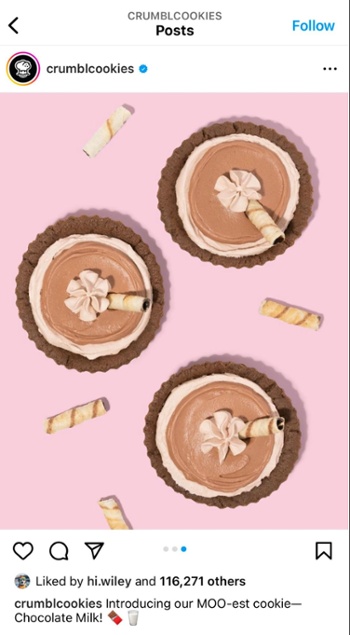 Source: @crumblcookies
Given that social media (and social search, in particular) is so massive for product discovery, brands are rightfully doubling-down on social content creation and distribution in-house.
Beyond scaling in-house, brands are also collecting user-generated content and sourcing posts from influencers. Doing so is key to keeping up with the TikTok and Instagram algorithms, not to mention the demand of social consumers looking for their next purchases.
The Effectiveness of User-Generated vs. Brand-Generated Content
User-Generated Content
Brand-Generated Content

More trustworthy and engaging than brand-generated content
Always authentic because it's produced by real people (but quality varies)
Can be sourced on an ongoing basis (but requires permission to be repurposed and republished)

Offers brand control and conveys the exact message you want to say
Authenticity varies depending on the brand's voice and creatives
Can be produced consistently (depending on your bandwidth) and is owned by your brand (no rights management required)
Important: it's not a matter of either-or when it comes to both types of content for brands.
You'd be hard-pressed to find a brand that exclusively posts UGC. On the flip side, every successful consumer brand on social media features customers and creators in their content strategies. In short, brands need a combo of both.
Debating the effectiveness of user-generated content vs. brand-generated content also requires context. Both types of content for brands have distinct benefits which we break down below.
UGC is More Trustworthy Than Brand-Generated Content
When was the last time you bought something without reading a customer review first?
Chances are you probably can't remember. Hey, neither can we!
The same goes for your target audience, though. Shoppers today rarely rely on brand messages alone when it comes to researching products.
On the flip side, consumers crave real feedback from real people. Makes sense. This is why it's no surprise that UGC significantly lifts conversions when customers interact with it.
From customer photos and videos to reviews and beyond, user-generated content can supplement each and every phase of your marketing funnel. This explains why repurposing creator content is such a priority for brands today.
User-Generated Content is Always Authentic
Relatable, unfiltered content helps potential buyers imagine a product in their own hands.
Fact: 88% of consumers trust recommendations from people they know above any marketing channel This explains why micro-influencers are so effective when it comes to establishing trust.
Authentic creators with smaller followings feel more like friends or family versus a celebrity. This phenomenon also explains why brands are turning to UGC creators to make promotional content that feels organic.
User-Generated Content Can Be Sourced Long-Term
When there's a high volume of happy customers posting about your brand, more people will follow suit. Done right, this creates a snowball effect that yields UGC long-term.
Brands with an established branded hashtag can do this organically. The more satisfied customers that tag your brand, the bigger your library of UGC becomes. Below is an example of Billabong's #KnowTheFeeling tag which has earned over 29k pieces of UGC.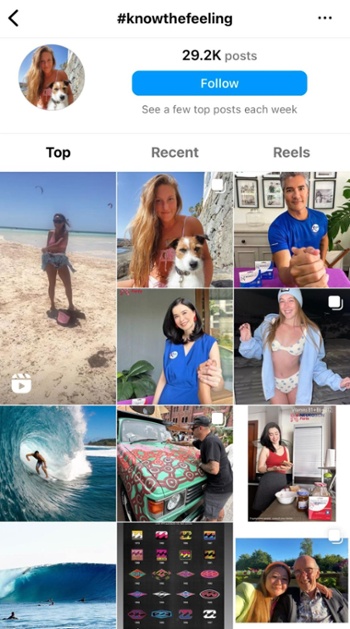 On that note, creating thousands of pieces of content in-house isn't realistic (or even possible). Achieving such a high volume of content means leaning on creators and customers to spread the word.
Brand-Generated Content is Yours (With No Strings Attached)
This is a big one.
The benefits of user-generated content over brand-generated content when it comes to authenticity and trust are clear. That said, the housekeeping required with both sourcing and promoting UGC often flies under the radar.
Specifically, user-generated content can be a time-sink when it comes to rights management. This includes reaching out to creators to get explicit permission to republish posts.
With branded content, all of the above is a non-issue because you own your posts full-stop.
Brand-Generated Content Lets Brands Say Exactly What They Want to Say
The unfiltered nature of user-generated content is what makes it so powerful. Creators' off-the-cuff delivery and unique style really resonate with consumers.
That said, organic UGC usually isn't necessarily ad-worthy (or even marketing-ready).
Not every satisfied customer is going to align with your brand. Heck, some customers might get details about your products wrong. They might show off your product but never mention your brand by name or explain where followers can find it in-store or online.
But hey, you can't blame them! Customers aren't employees.
Branded content created in-house puts you in total control to highlight key benefits and emphasize the specific details of the products that you need.
Brand-Generated Content Can Be Produced Consistently
The inconsistency of UGC isn't solely limited to quality.
Brand-generated content can be anticipated when it comes to scheduling and publishing frequency. Likewise, your in-house content can align perfectly with launches and promotions.
On the other hand, user-generated content is more sporadic and random.
Organic posts don't always align with what you're currently promoting. For example, you can't source organic user-generated content for a product launch until after the product is released.
Although the value of UGC can't be denied, it isn't always consistent in terms of quantity or quality. With branded content, you know exactly what you're going to get.
In-house content is also reliable and consistent when it comes to meeting your brand's standards. For example, this post from Vital Proteins is aesthetically pleasing, professionally produced and conveys the brand's vibe.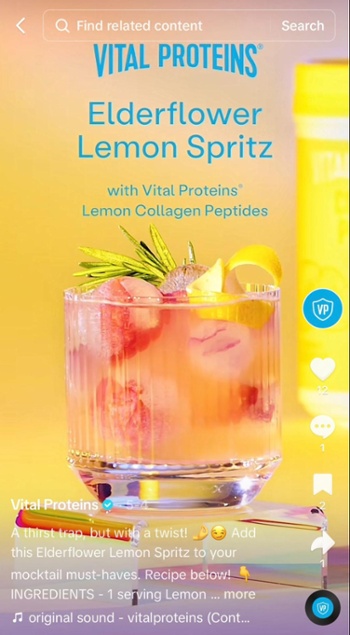 Source: @vitalproteins
These types of posts are necessary for both establishing your brand and keeping followers in the loop about your products.
How Influencer-Generated Content Gives Brands the Best of Both Worlds
When it comes to user-generated vs brand-generated content, there's a sort of tug-of-war between authenticity and control.
But consider how brands can find a balance between both via influencer-generated content.
Influencer-generated content refers to posts produced by content creators with creative input from brands (in exchange for compensation).
Done right, posts from influencers feel like organic UGC. This is especially true for brands that partner with micro-influencers that publish relatable, authentic content.
Food for thought: 71% of consumers prefer to discover products through consumer content versus branded ad channels. Although influencer-generated content is brand-directed, it's not brand-generated. Influencer posts retain their authenticity as a result.
That's why savvy brands are prioritizing influencer collaborations to create content that looks organic but still aligns with their specific marketing goals.
In short, influencer content bridges the gap between UGC and in-house content. Brands can get their desired messages across while benefiting from creators' authenticity and personality.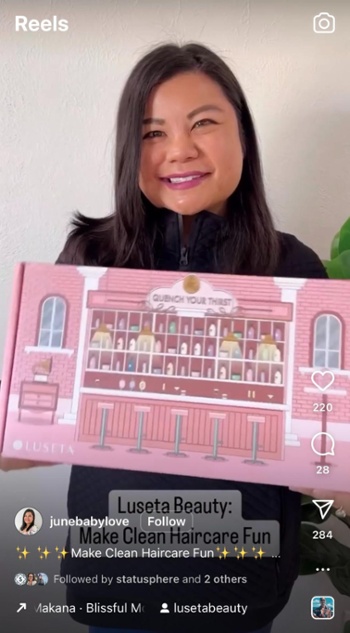 Source: @junebabylove
Let's wrap things up by breaking down the benefits of influencer content (specifically content from smaller creators versus celebrities).
Influencer-Generated Content Balances Authenticity and Control
Consider that consumers rank influencers as one of their most-trusted marketing channels.
Shoppers trust opinions and seek out the content of authentic creators they can relate to. Unlike organic user-generated content, influencer content offers brands a say in what's published.
While UGC ticks the boxes of authenticity, most organic UGC isn't exactly ad-ready. Most brand-generated content is marketing-ready but lacks reliability or personality.
Influencer-generated content is a happy medium between the two as brands provide direction but empower influencers to take the reins when it comes to creativity and delivery.
Brands running creator campaigns in-house are tasked with sharing influencer briefs that balance creative freedom and brand messaging. This process requires keen attention to detail and is exhausting if you plan on running long-term, always-on influencer campaigns.
With Statusphere's platform, brands can actually streamline and optimize the briefing process without sharing directions themselves.  Our creators are vetted and matched with products based on 250+ first-party data points based on brief brand input.
This means that creators are only matched with products they actively want to promote. Stronger matches mean that creators have a stronger pulse on what to say, what to post and which types of content will resonate most with their audiences.
Influencer Content is Scalable (with the Right Platform)
Relying solely on organic UGC is a challenge when there are so many question marks regarding both volume and quality. Meanwhile, scaling content in-house can only take brands so far when competitors are earning hundreds or thousands of posts per month from creators.
That's yet again where influencer marketing campaigns can pick up the slack.
Working with a high volume of micro-influencers long-term offers an actionable way for brands to scale content production without sacrificing quality. Making this happen means using an influencer platform like Statusphere that generates a guaranteed number of posts for brands.
Influencer-Generated Content Boosts Paid Social Performance
The value of influencer-generated content extends far beyond your social feed.
For example, consider how brands are transforming their top-performing influencer posts through whitelisting (AKA "allowlisting") on TikTok and Instagram.
Check out the Spark Ad on TikTok from Isle of Paradise below. This ad campaign earned 45+ million views in total, not to mention a 68% boost in weekly paid revenue (versus the previous nine weeks of their campaign).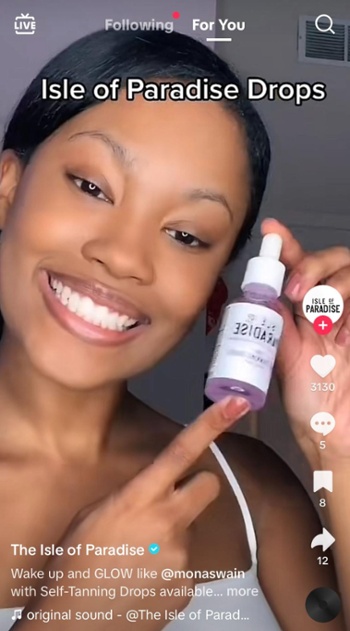 Source: TikTok
Note: having content rights built into your influencer platform means you can use your creator content in ads without any manual outreach or back-and-forth.
How to Earn  Influencer-Generated Content at Scale
Shoppers crave honest recommendations from people they trust. Simple as.
That's why creator content is a goldmine for marketers.
Sourcing organic user-generated content and creating thoughtful brand-generated content are both important for brands today.
Meanwhile, ongoing influencer-generated content keeps your brand visible in social search and likewise means more potential for marketing-ready content you can promote elsewhere.
If you need a scalable way to earn authentic branded content, Statusphere's platform can help.
Our micro-influencer software matches brands with vetted influencers from our creator community. Unlike other platforms, we can guarantee a specific volume of content for brands.
Statusphere eliminates the most time-consuming pieces of running an influencer campaign in-house thanks to our advanced matchmaking and fulfillment technology. We've already generated 75,000+ pieces of content on behalf of 400+ consumer brands.
Want to see how our platform works? Get in touch with one of our experts to learn how we can optimize your brand's marketing efforts with guaranteed content at scale.