For Snap Inc., hype matters. And for Wall Street analysts, as users go, so goes the hype.
Snap has fallen 8.1 percent over the past two trading days, the worst performer in the S&P Software & Services Select Industry Index over the period. That's come as analysts at Needham and Cowen sharply cut their outlooks for Snap, which has struggled to maintain user and advertising growth amid a battle for market share with Facebook Inc., which has repeatedly mimicked Snapchat's app features.
Snap fell to $12.91 per share as of 1:36 p.m. in New York, down from its $14.05 closing price on Monday.
The slide began after disappointing user and advertising revenue growth led Cowen Inc. analyst John Blackledge to cut his revenue forecasts for the Los Angeles-based social network for the next six years. Blackledge, who rates Snap the equivalent of a sell, said that a Cowen survey suggested that users were spending less time on the app.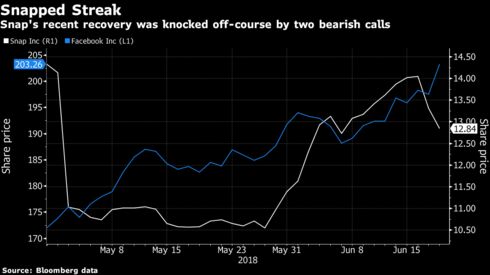 The drop continued Wednesday after Needham & Co. analyst Laura Martin cut her forecast for Snap's second quarter revenue by 15 percent, writing in a note to clients that her research showed a "dramatic slowdown of spending by brands on Snap." Martin, who also rates the company the equivalent of a sell, said that big events in the first quarter, including the Grammy Awards, the Super Bowl and the NCAA finals, led to spending that won't be repeated in the second.
The two-day move mirrors a 6.1 percent decline in February, when Snap plummeted after social media star Kylie Jenner tweeted that she hadn't been using the app, partially due to an app redesign. Shares have been depressed since May after the company's first quarter sales fell short of expectations, casting doubt on its long-term growth prospects.
The recent bearish calls by analysts add to a growing chorus surrounding Snap. The average price target among analysts has fallen 25 percent since late April, while only 6 of 34 analysts now rate the stock a buy, according to data compiled by Bloomberg. Short-sellers are active, too, with 22.7 percent of the float sold short, up from 17.3 percent in early May, according to data from S3 Partners.