By Tercius Bufete
If space is tight, consider these four modest-sized options
For apartment dwellers and space-strapped homeowners, a big printer can be a hulking eyesore. But you don't have to resign yourself to sharing limited real estate with such a behemoth. You can opt instead for one of the more compact printers available today—as long as you can live with a few compromises.
Up to a third of the size of some inkjets, compact printers often perform just as well as other models. In fact, three modest-sized inkjet options sit among the top five in our regular printer ratings. (Laser printer technology is more difficult to pare down.)
You can also outfit your home office with what's known as a portable printer. Those are designed for on-the-go use and can run on battery power. You can easily stash one in a drawer and retrieve it as needed.
But portable models frequently lack convenient features such as an LCD screen, a memory card reader, and support for PictBridge software, which allows you to print photos directly from a camera without the use of a computer.
They're also expensive to buy ($200 and up) and operate, with per-page ink and maintenance costs sometimes running two to three times higher than other inkjets, says Rich Sulin, who leads CR's printer testing program. The cartridges tend to be smaller, too, so they hold less ink—which means more trips to the store.
"Unless someone needs the printer to be portable or needs to stow it away in a really small space, such as a mobile home," Sulin says, "I would consider one of the smaller conventional all-in-one models, such as the Canon Pixma MG3620."
One last thing to keep in mind: Smaller printers tend to have smaller feed trays, which means they can handle only about 10 to 50 pages at a time.
To help you choose the right option for your home, here are four of the best small printers—two compact and two portable—in our ratings, all graded by our testers on nearly 250 data points. To make sure the one you buy is no different from the one we test, we purchase every model that enters our labs from a retailer—just like you.
Please note that the measurements reflect the size of the printer when it's open and ready for operation with paper trays in place.
Each of these models prints good-quality text quickly and connects to a laptop or smartphone over WiFi, which comes in handy when you don't feel like messing with cords just to print a map or a concert ticket.
1
All-in-one printer
Canon
Pixma MG3620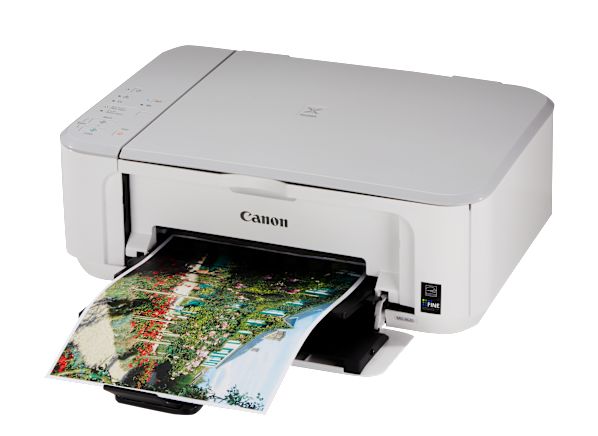 Size: 6.1 inches high x 17.6 inches wide x 22.7 inches deep
If you want a bargain-priced all-in-one inkjet that won't drown you in maintenance costs, the Canon Pixma MG3620 is one of the best.
For less than $50, it will let you print, copy, and scan to your heart's content. And after two years of typical use it will have a total operating cost of roughly $300, which is low for an inkjet.
On the downside, you have to replace the entire color ink cartridge each time a single hue runs out. And unlike the Canon model below, the MG3620 won't wow anyone with its text print quality. But, if you're using it to spit out forms and driving directions, that won't matter much.
2
Regular printer
Canon
Pixma iP7220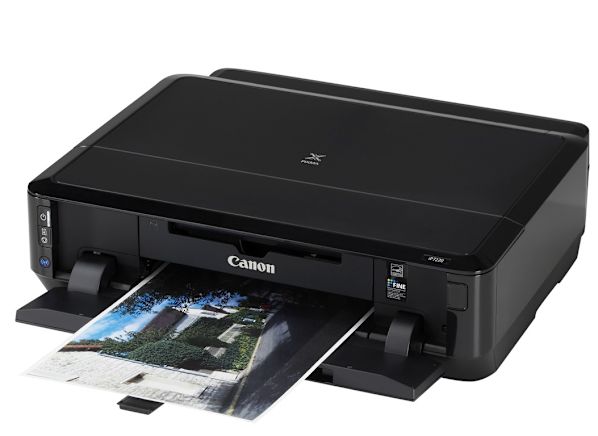 Size: 5 inches high x 17.8 inches wide x 24 inches deep
The $90 Pixma iP7220 cannot scan or copy. And, truth be told, it did not make our recommended list, despite earning high marks for text, graphics, and photo quality.
But that's because it received a Fair rating for maintenance ink use, which means the model goes through more ink than usual to keep the print heads clean after sitting idle for a while.
We estimate the two-year cost of ownership to be $340, which is typical for an inkjet
Another downside: The model does not print if one of the color ink tanks is empty, though the fact that it has individual tanks makes it easy to refill.
3
All-in-one portable
HP
OfficeJet 250 Mobile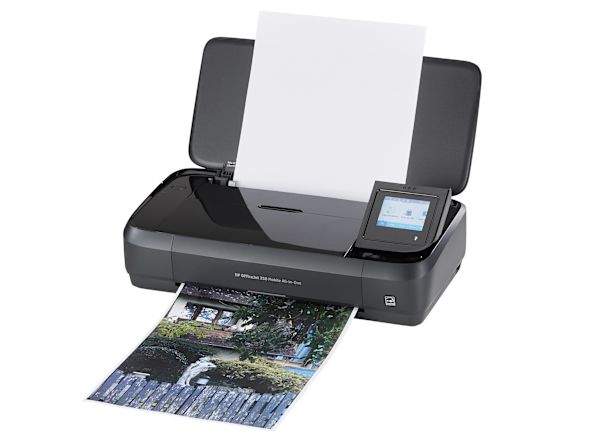 Size: 10.5 inches high x 14.9 inches wide x 21.7 inches deep
If portability is what you want, the HP OfficeJet 250 Mobile is ready to go—powered by a plug or battery (sold separately). And it collapses into an even smaller footprint when not in use.
At $280, the printer is pricey, but it makes up for that by packing helpful features missing from the competition. That includes a built-in LCD screen for viewing and editing images from a memory card, plus scan and copy functions—though the sheet-fed scanner on this model processes only one page at a time.
"It requires a little care and patience," Sulin says. "And it's not ideal for batch scanning."
The text and photo quality are both okay, and we estimate the annual cost of ownership to be $100, which is typical for this type of printer. The model does not offer USB PictBridge for printing photos directly from a camera, the multicolor ink cartridge must be replaced when a single color runs out, and and the paper tray fits only 50 sheets.
4
Regular portable
HP
Officejet 200 Mobile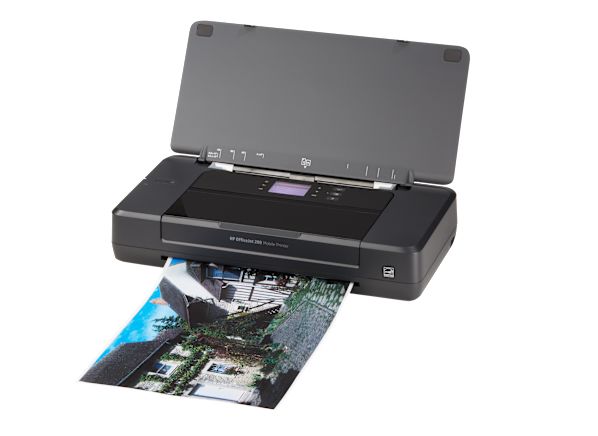 Size: 10.9 inches high x 14.1 inches wide x 19.6 inches deep
Like the model above, the $240 OfficeJet 200 Mobile can be powered by a plug or a battery (sold separately). And it collapses into an even smaller footprint. But the printer doesn't scan or copy and it doesn't offer USB PictBridge. And the paper tray holds only 50 sheets.
However, this printer does excel at producing graphics, it offers up high-quality text and photos with admirable speed, and it doesn't waste much ink to maintain the print heads. The estimated cost of ownership is $120 per year, and the multicolor ink cartridge must be replaced when a single color runs out.
By Tercius Bufete