Sourced from Seeking Alpha Pro.
Summary
ITVPY's share price continues to be held back by concerns about the television advertising market.
Its dominant and growing position in this market continues to impress, however.
Similarly, its increasing push into content production and distribution should appeal to long-term investors.
The company is attractively cash-generative with what appears a sustainable strategy for continuing growth into the future.
Currently, considerably undervalued compared to its peers, today may be a good time to pick up shares in the company.
In the UK, if you're looking at ITV (OTCPK:ITVPY) as an investment, your first thought is its wide variety of TV channels. Having emerged as the first commercial UK television channel in 1955, it has grown to be the biggest channel after the state-owned BBC family of channels from a viewership perspective (Data sources: ITV Annual Reports):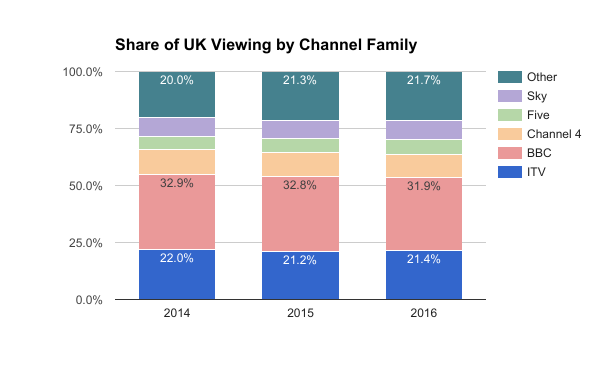 Ironically, however, I think the prominence of its channels in the UK television ecosystem has unfairly kept its share price lower than it should be. The growing viewership of other channel families in recent years is a reminder of the increasingly competitive media landscape in which the company operates.
The reality is that it continues to dominate the TV advertising market in the UK (Data sources: ITV Annual Reports):