Sourced from eMarketer
Facebook, Snapchat and Twitter want a piece of the digital video advertising pie
Facebook, Snapchat and Twitter are embarking on a massive land grab for video content, hoping to drive increased usage and capture a greater portion of digital video ad revenues with familiar ad formats such as pre-roll and mid-roll.
"Consumers—particularly young people—are viewing video programming on more devices and in more destinations than ever before, and social platforms want to capture their attention," said Debra Aho Williamson, eMarketer principal analyst and author of the new report, "Video Advertising in Social Media 2017: Showtime for Facebook, Snapchat and Twitter." (Subscribers to eMarketer PRO can access the report here. Nonsubscribers can purchase the report here.)
Video advertising has become an important revenue stream for social media properties. But they want more.
Being pigeonholed in the "social" bucket has stymied growth. The broader digital video ad business is something that all social properties have been lusting after.
eMarketer forecasts US digital video ad spending outside of social platforms will reach $13.23 billion this year, up 23.7% from 2016. By 2021, spending will reach $22.18 billion.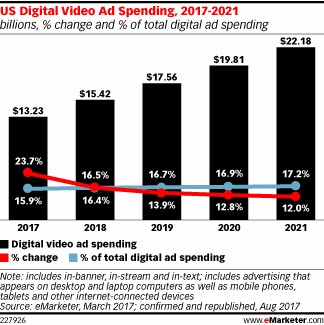 eMarketer does not include video outlays on social platforms in its digital video ad spending forecast, instead counting them in the rich media forecast. Rich media, which will be a $10.33 billion market in the US this year, includes such ad types as flash, JavaScript and video that does not appear as part of a video player.
Companies like Facebook "know their users have an increasing appetite for video content and are actively making a play for brand marketing dollars that would traditionally go to online video or broadcast TV buys," said Todd Silverstein, US head of performance marketing at Edelman.
Although Facebook has deep pockets and an enormous audience, its success is by no means assured. Consumers today don't go there to watch shows, so Facebook must change their behavior by offering great programming and a winning video platform.
Meanwhile, Snapchat's "Shows" are quite short, benefiting its position as a place for creative, quick-hit content for young people. TV networks are the primary programming partners, and the ads use Snapchat's familiar vertical video format.
However, many marketers have yet to get comfortable with creating video ads on Snapchat. As the company continues to roll out programming, the challenge will be to convince them to develop for its unique format.
Twitter is relying on its real-time roots, emphasizing live and event-driven video content. Like Snapchat, Twitter has turned to a familiar format—its Amplify video publisher partner program—for delivering ads in its new shows. The company has a lot riding on its video initiatives, given its slumping user growth and resulting falloff in ad revenues.