Sourced from eMarketer.
Strong results despite a wrenching quarter
Google parent Alphabet seems to have survived an advertising controversy basically unscathed, posting strong Q1 results that were driven in large part by advertising on mobile and—you guessed it—YouTube.
On Thursday, Alphabet reported that its first-quarter revenue was up 22% year over year.
So by and large, it seems that YouTube's ad controversy, where brand ads appeared near extremist content, hasn't had a material effect on the company's advertising revenues.
"Given the extent of the YouTube ad boycott in Q1, it wouldn't have been surprising to see a dent in Google's revenue for the quarter," said eMarketer analyst Paul Verna. "However, it's important to put this in perspective. YouTube accounts for about 10% of Google's net ad revenues, and only a small portion that YouTube inventory was affected."
In addition, Verna said, YouTube has taken steps to address advertisers' concerns, so it's likely that many companies that took a pause from the platform will eventually return. "Barring a new controversy, the events of the past quarter don't seem like they'll have a lasting effect on Google's business."
Google has been planning stricter ad safeguards since the incident to prevent it from happening again. And it's likely the search giant will continue to contain and address YouTube's issues in order to maintain growth expectations for the year.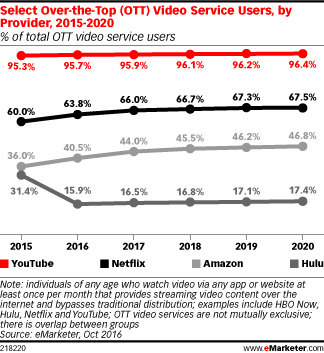 eMarketer estimates that YouTube had 180.1 million US users in 2016. The US user base isn't expected to grow much—growth will be just 3.2% this year, eMarketer estimates—but that reflects the fact that it is at near saturation levels: eMarketer estimates that nearly 85% of digital video viewers are YouTube viewers. And among users of OTT services, YouTube is essentially at true saturation—over 95%.
"We have taken [the ad controversy] pretty seriously and we're taking significant steps," said Google CEO Sundar Pichai in Thursday's earnings call. "We've brought technical solutions in place, like machine learning. We are in early days, but as machine learning gets better, we can do this even better. Overall, I'm pretty confident in the way we've made progress. It's super important to us that the ecosystem works well, it matters for advertisers and content makers, we take it seriously. Advertisers have seen the improvements we've made, our conversations with them has been positive. I'm optimistic."
—Rimma Kats