In this article, we dive into five apps that are similar to Twitter and share what you need to know about each one.
Ever since Twitter's ownership changed in late 2022, several apps have sprung up offering to be alternatives with varying degrees of popularity. Some are so recent they're not even at the beta testing stage yet.
It may be overwhelming trying to navigate the list, but thankfully, I've been keeping up with them and have noted five that you may want to keep your eye on. In this article, we'll dive into these apps, what you need to know about each one, and share some advice for your potential future on these new platforms.
Mastodon
Starting with one most of us are familiar with; Mastodon saw an uptick in users when the Twitter takeover began and has been touted as the most likely platform for users to gravitate towards.
Mastodon is a decentralized network that allows users to create accounts in distinct communities while being able to access others. It's based on an open-source, "federated" concept, where different servers use the same protocol to speak to each other and share content to one feed.
These servers (also known as instances) allow users to create communities through Mastodon without building the whole infrastructure from scratch. Server operators oversee the users' activity registered and hosted on their respective servers.
Key Features
Users can choose the network they want to sign up on, and options abound with nearly 10,000 active communities. The default network for new users at signup is "mastodon.social", but you can choose whichever you want.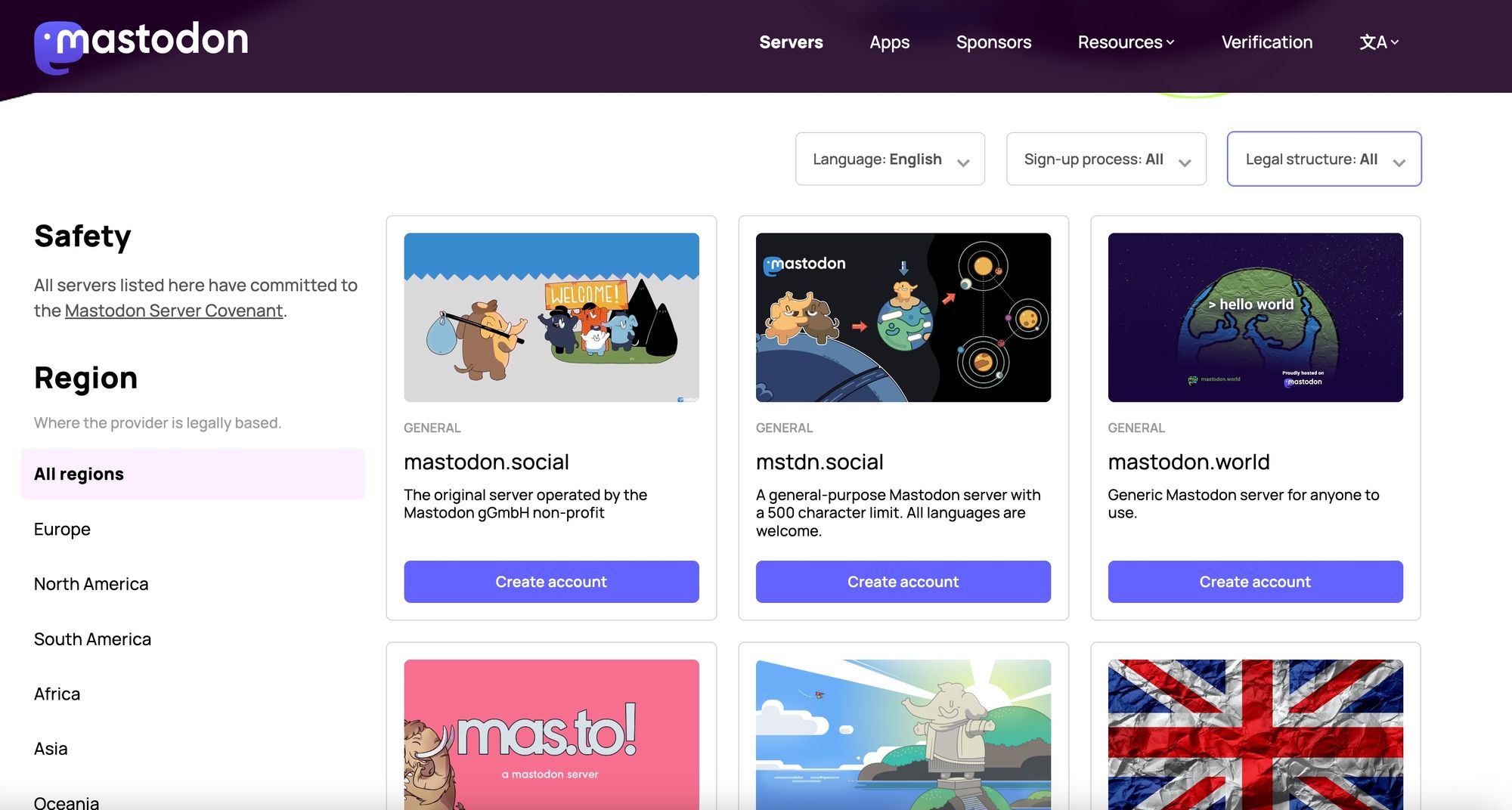 There are no ads or plans to incorporate ads into Mastodon. Its founder has stated that he doesn't mind if users publish ads on their servers but would do so at their own risk.
When you create an account on one server, you can still see and interact with the activity on other servers on your Feed.
Users can make up to 500 character-long posts and share images, videos, and links.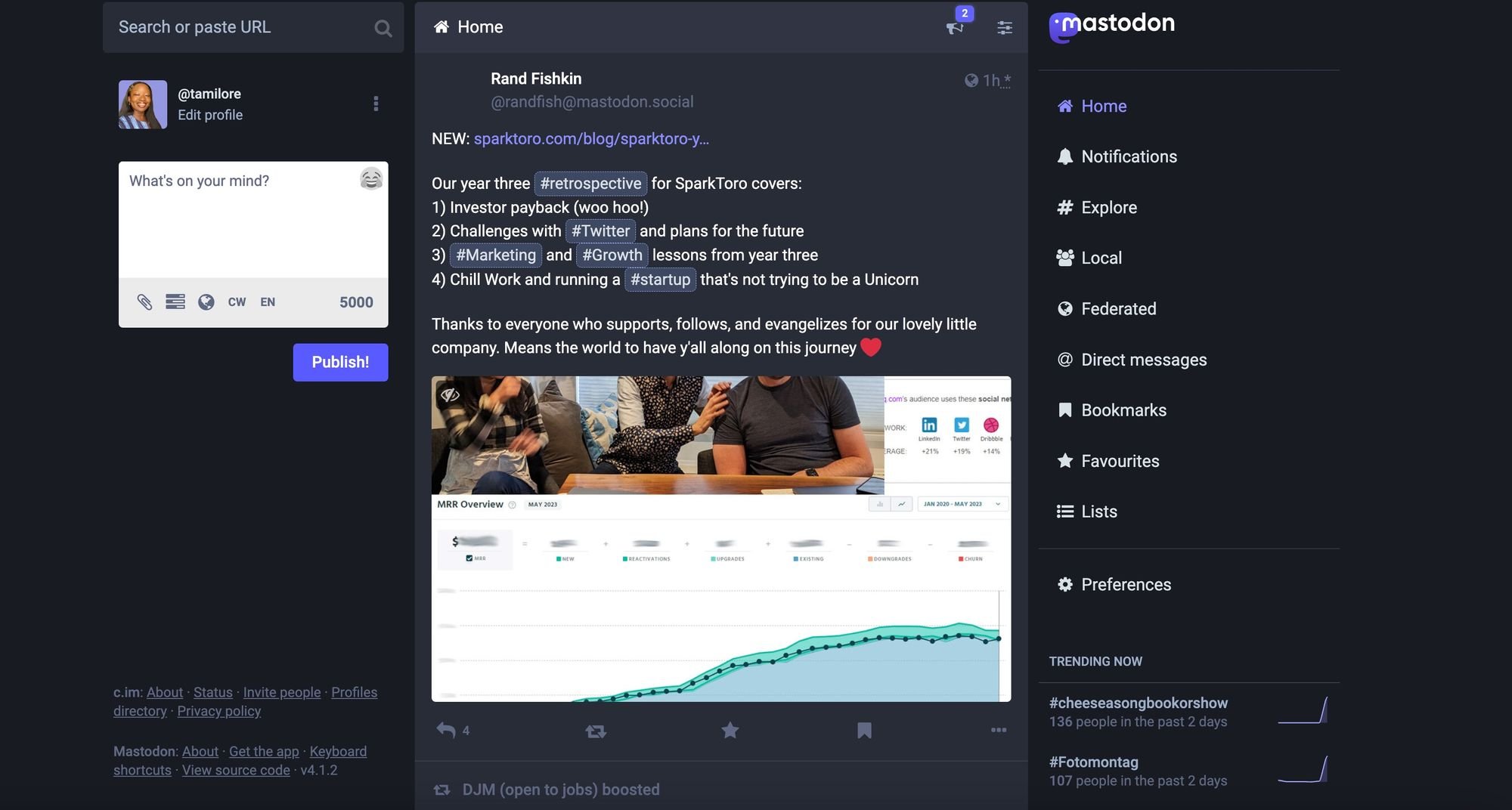 Some Use Cases
If you target highly specific audiences and communities, there's a Mastodon server for you.
By creating an instance for yourself or your brand, you can make a personalized feed with all the content you want to serve your audience and conversations you want to have with them while reaching a wider audience.
Find the Mastodon version of your favorite accounts from Twitter – many people and brands that moved over cross-post their content to both platforms.
Focus on thought leadership by starting and contributing to conversations without worrying about selling something or needing great visuals since that's not the platform's focus.
Available on: Web | iOS | Android
Threads/Project 92/Barcelona
In January 2023, rumours began that Meta had started coding a "Twitter competitor," and in May, the rumours were confirmed through a leak.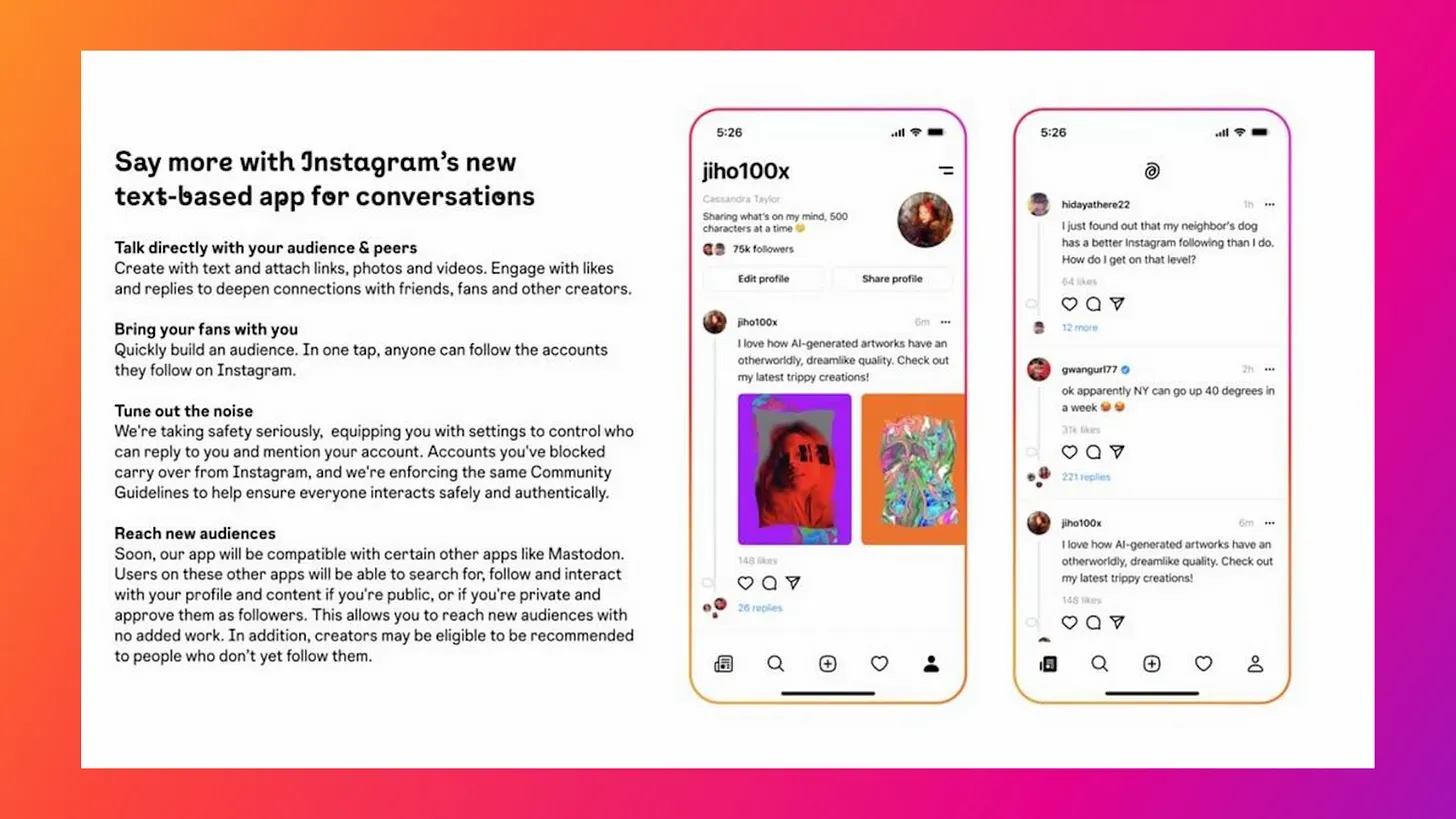 Currently referred to internally as Project 92, the platform has been referred to as Meta's answer to Twitter and will be integrated with users' Instagram information. According to The Verge, "The app will use Instagram's account system to automatically populate a user's information." It's also rumoured that the app's public name might be Threads.
Meta's chief product officer Chris Cox reportedly shared with employees that the company's goal for the app was "safety, ease of use, reliability" and making sure that creators have a "stable place to build and grow their audiences."
There isn't much out officially about the app, but according to Lia Haberman's ICYMI newsletter, it could be out as early as July 2023.  Some other details she shared in her newsletter are:
It's built on the back of Instagram, so you can sign in with your username and password, sync your follower list and even keep your handle, bio and verification status
Users on other apps will be able to search for, follow and interact with your profile and content (so it's likely a decentralized app built on the ActivityPub protocol)
You'll have multiple options to create content: text updates of about 500 characters, links, photos, and videos up to 5 minutes
Sharing will remain standard with likes, replies, and reposts.
You'll be able to control replies and mentions and easily block or report spam. Also, your blocked accounts and hidden words on Instagram will carry over
Finally, community guidelines will remain the same as on Instagram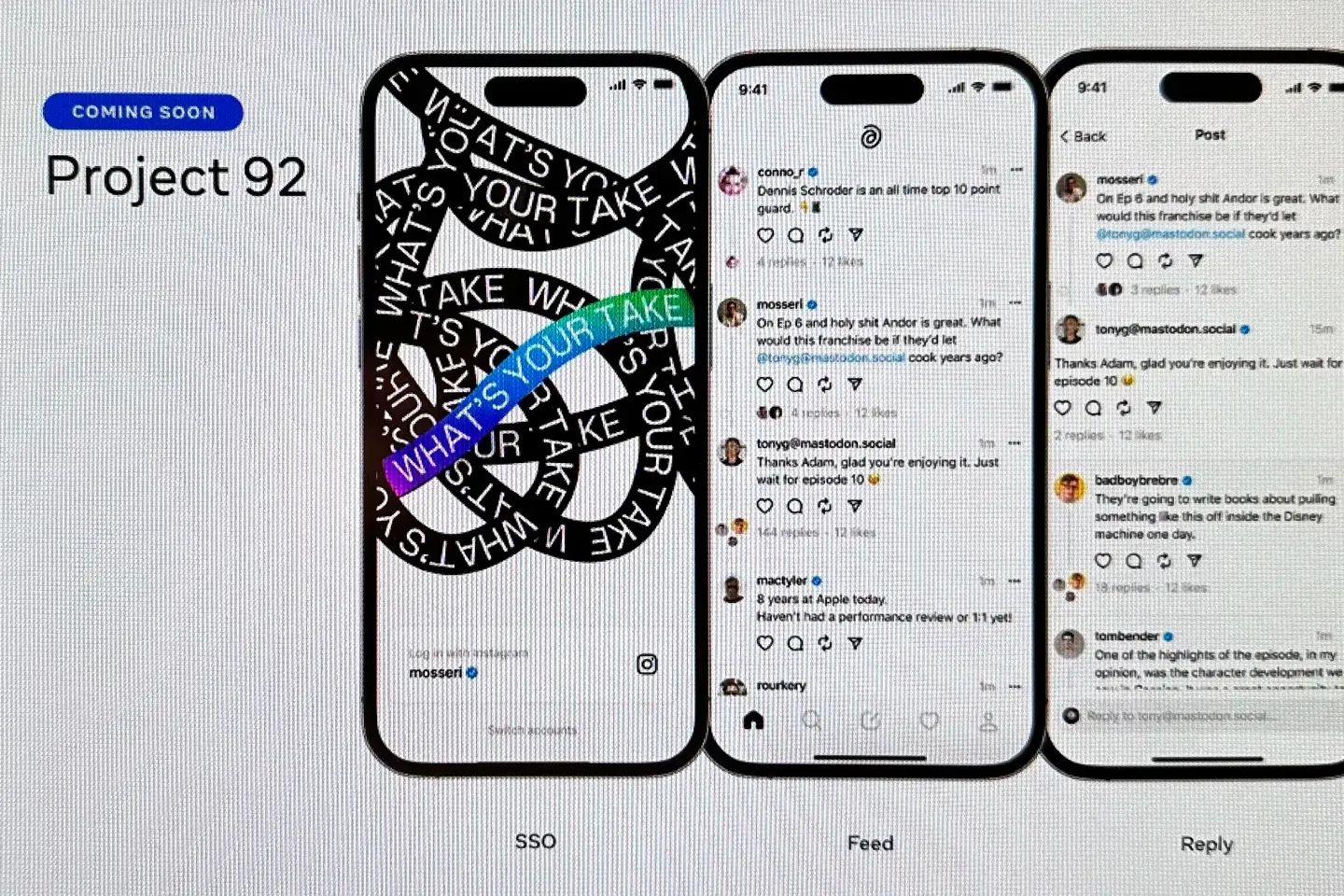 The newsletter also shares that there are no current monetization plans, implying that there won't be ads and the focus will be on organic content.
Available on: Nothing yet
Bluesky
Of all the apps on this list, Bluesky is second in popularity only to Mastodon, as the app has seen increasing hype, in part thanks to its Twitter co-founder and former CEO, Jack Dorsey, co-sign. The app has around 50,000 registered users but has reportedly been downloaded more than 375,000 times.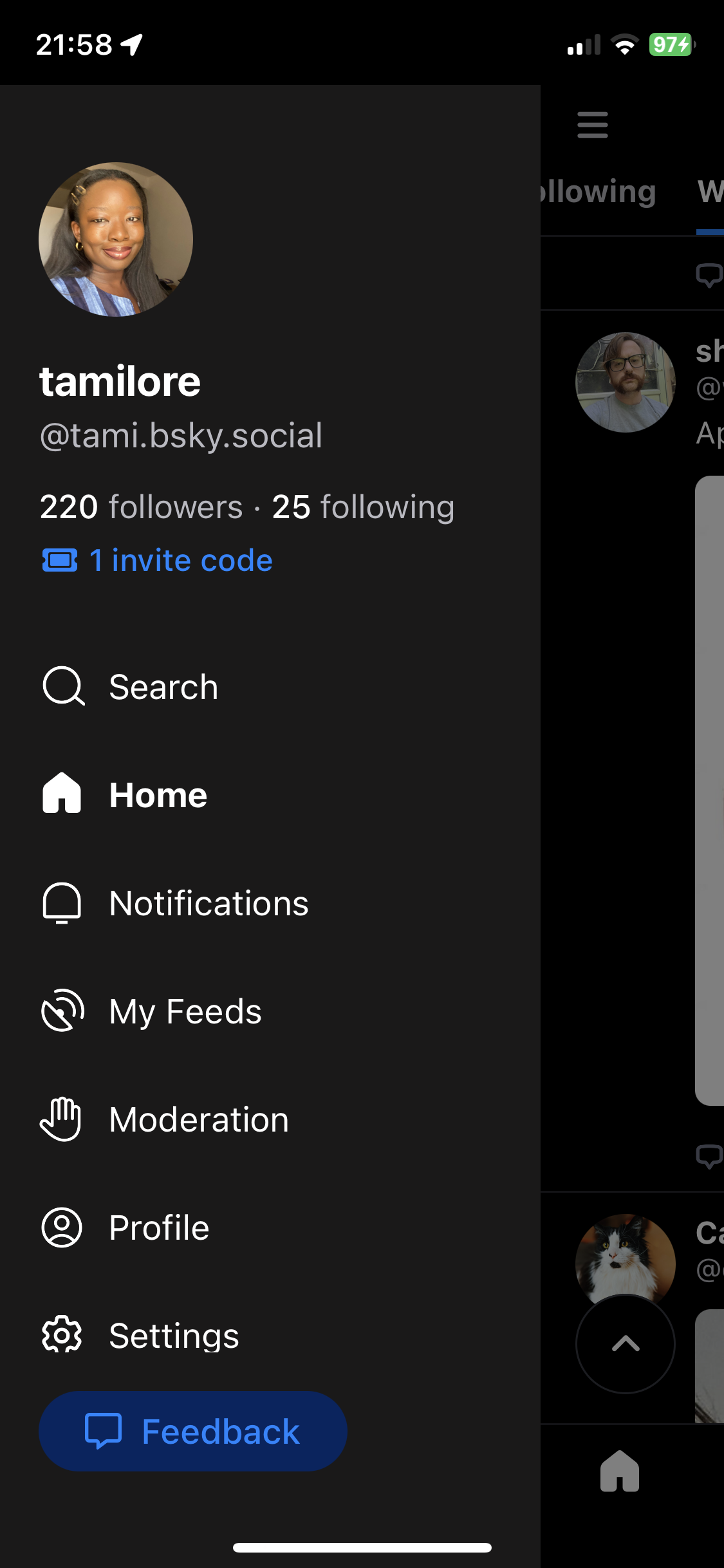 Bluesky is a decentralized social network, much like Mastodon, that allows its users to share short text updates through different providers instead of a huge central one. The default provider is bsky.social, where I've created my account. However, users can set their domain name as their Bluesky username while accessing the platform (instead of tami.bsky.social, I could be tami.buffer.com).
👀
We have a few teammates in Bluesky, so leave a comment if you'd like an invite code and I'll share it with the first commenter!
Key Features
Users can create posts of up to 300 characters and add images and links.
Bluesky allows its users to choose and even create their own algorithms called "Feeds." This means you can decide which type of content shows up on your feed. Some available options are: What's Hot, which shows all the trending content on the app; Blacksky, which shows posts from the Black users of Bluesky, among many others.
Moderation is taken quite seriously, with users allowed to filter content, mute lists, block accounts, and more updates in development.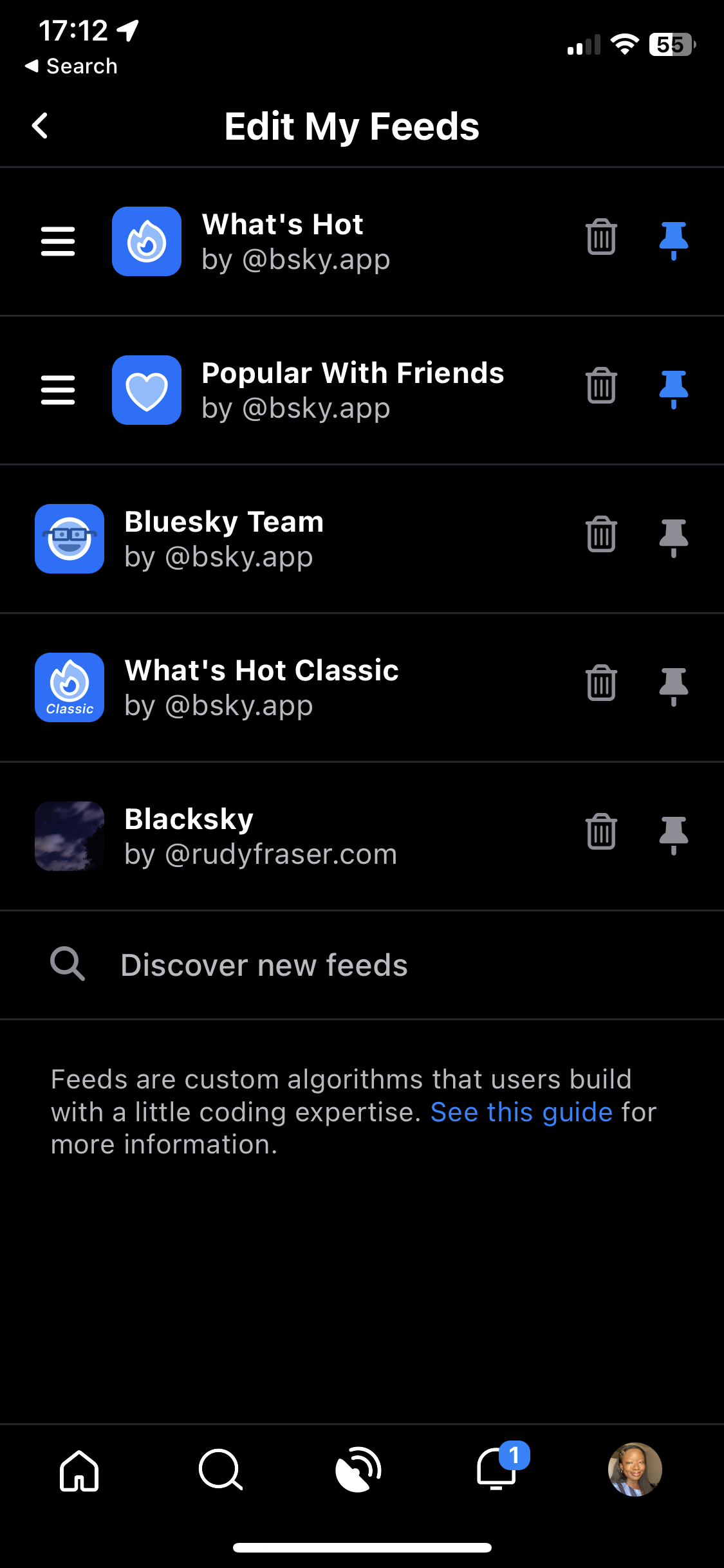 Some Use Cases
Create an algorithm that shows you and your community content from your account and other related news. If I had the technical prowess, I would create a "Creator Economy" or "Social Media Updates" feed. Flipboard has created curated Feeds for different categories.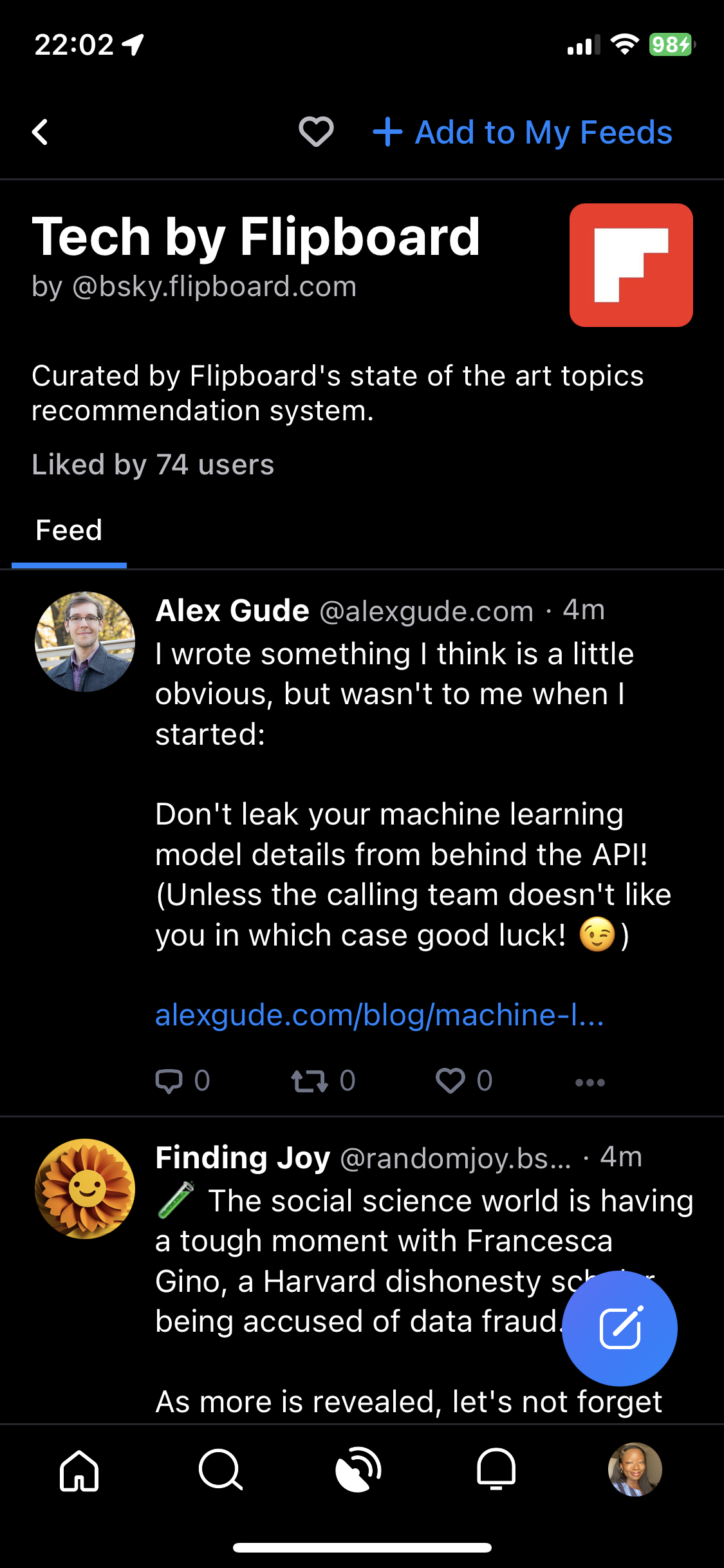 You can set and manage your account from a custom domain – see instructions here – which can help with verification. It could also create cohesion for everyone that works with or collaborates with your brand
Available on: Web (in progress) | iOS | Android
Post News
True to its name, Post News is a "social platform built for news," according to its tagline. The main idea behind the platform is to replace the specific function of "trusted news source" that Twitter lost, along with the changes to how verification works.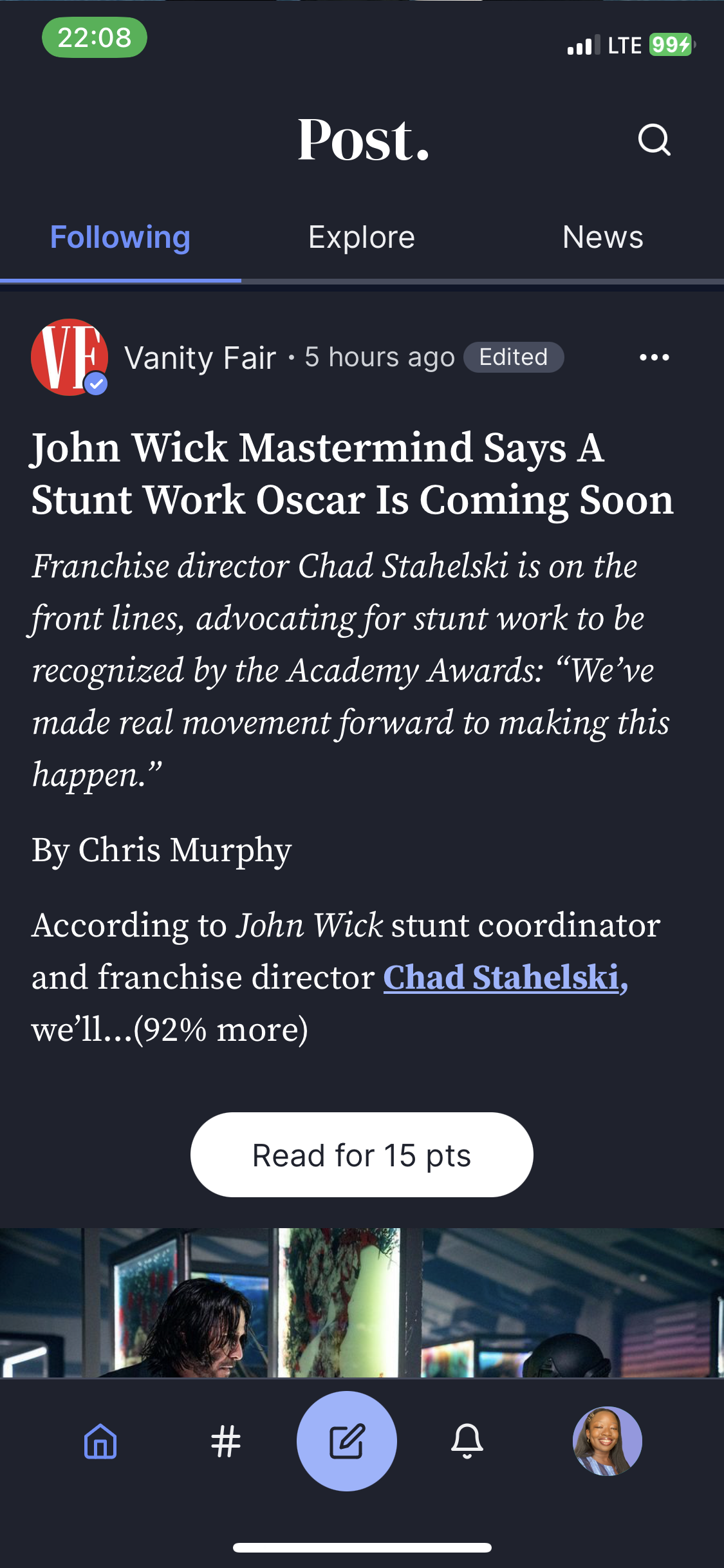 Since its public launch in February, Post has welcomed over 440,000 users ranging from journalists, subject matter experts, and academics, and more than 30 premium publishers.
Despite serving a similar function to Twitter, Post aims to "develop a platform where publishers can generate revenue from micropayments — that is, where users pay some small amount of money to read individual news items," according to TechCrunch.
Essentially, the platform seeks to aggregate every news platform that might put a paywall and let users choose when to pay for each news item they want to read instead of paying multiple subscriptions.
Key Features
Post allows users to write articles of any length, as well as like, repost and reply
Users pay with "points" to read articles which range in cost from 1-50 points
You're gifted 50 points at sign-up, after which you have to buy a bundle from Post's micropayments platform. One point costs $0.01 and you can buy a bundle of 300 ($4.20) to 10,000 points ($126.70).
Post gets a percentage of each sale of points bundles.
Users can also choose to tip creators and publishers on the platform.
Some Use Cases
If you already share paywalled content through your newsletter or Patreon, for example, Post could be a great way to send updates to your existing and new audience (if it's a relevant platform) while also being able to keep monetizing your content.
Thanks to the lack of a character limit, you can post entire articles on the platform so people don't have to click out, but your content still gets in front of the right audience.
Available on: Web | iOS | Android (coming soon)
T2 Social
T2 Social, founded by Gabor Cselle and Sarah Oh, is the closest platform to Twitter in terms of its user interface, the style of posts, and the general vibe on the platform. This can probably be attributed to Sarah Oh's experience as Human Rights Advisor at Twitter.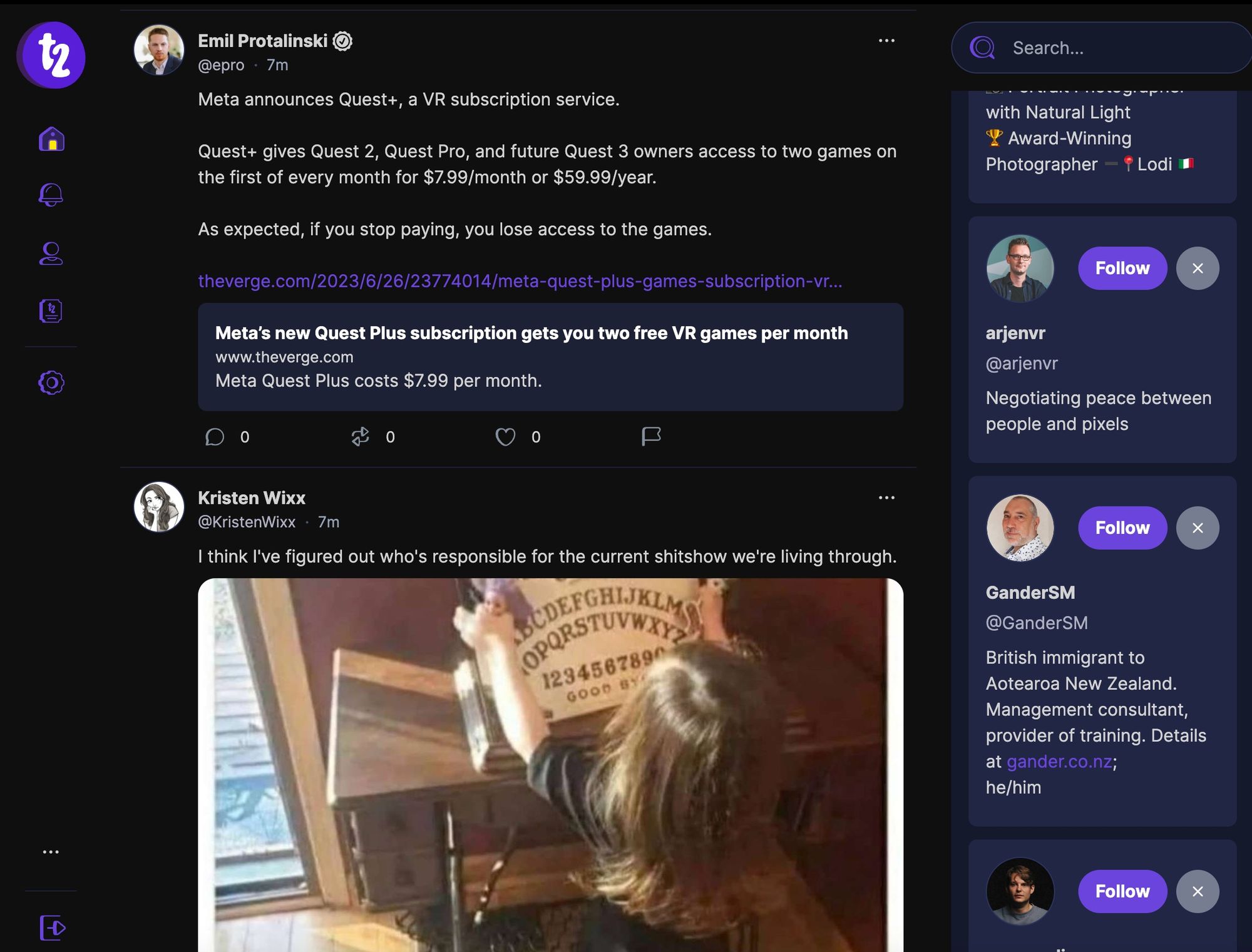 The platform has one of the smaller user bases on this list, reporting 7,500 users in an email update as of June 2023.
Key Features
Write short posts of no more than 280 characters, add a photo, post replies, and repost or like content.
You can connect to your Twitter account to your T2.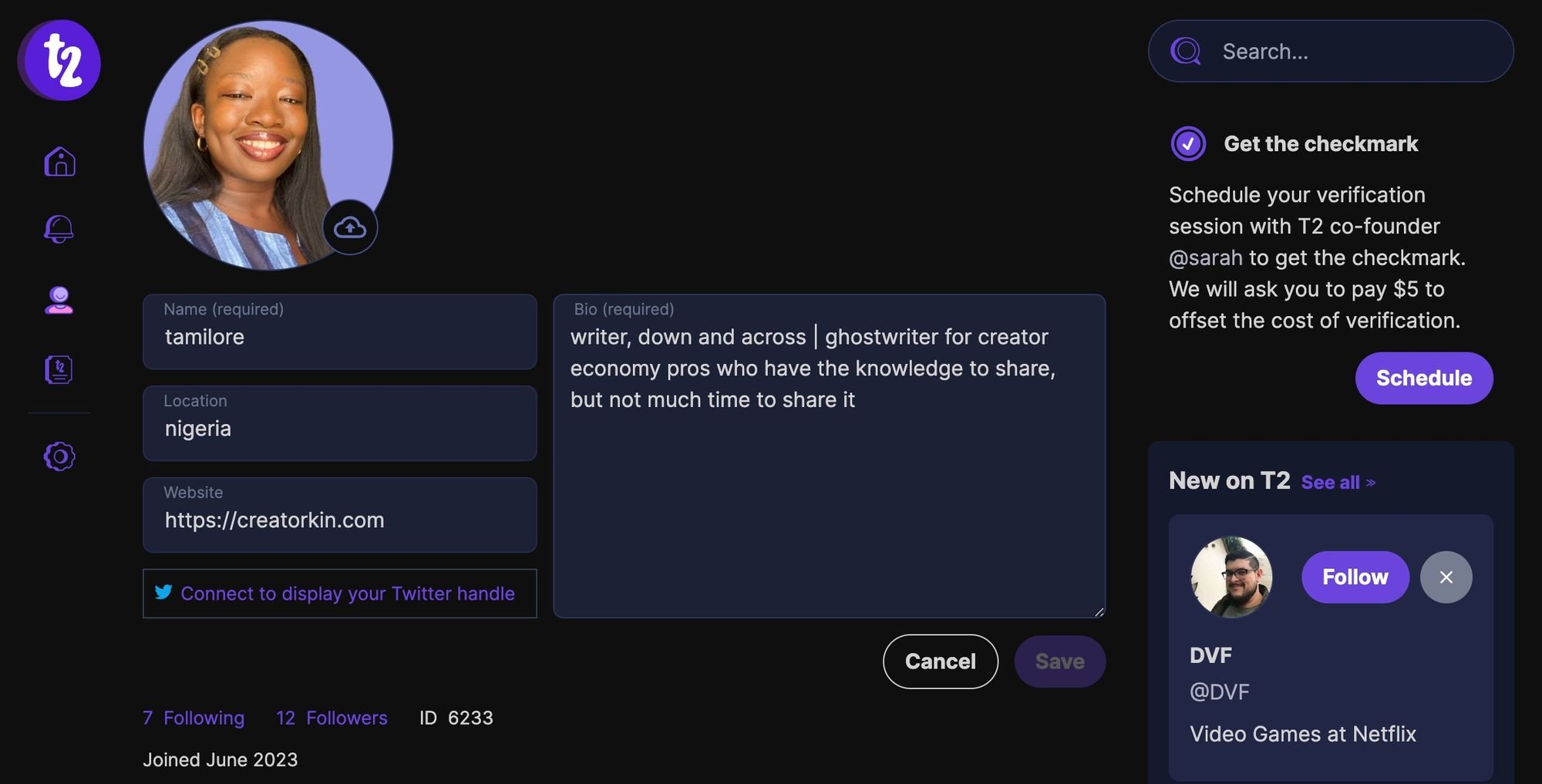 Users who are legacy checkmark holders on Twitter can claim their T2 checkmark by filling out a form. Others have to schedule an interview with Sarah and availability is limited – you can only get one as soon as August. I'll let you know how mine goes!
There's no clear "algorithm" yet – I get served content across different verticals and in different languages (Japanese is a constant on my feed). This is probably because I just joined, so my interests haven't fully registered yet.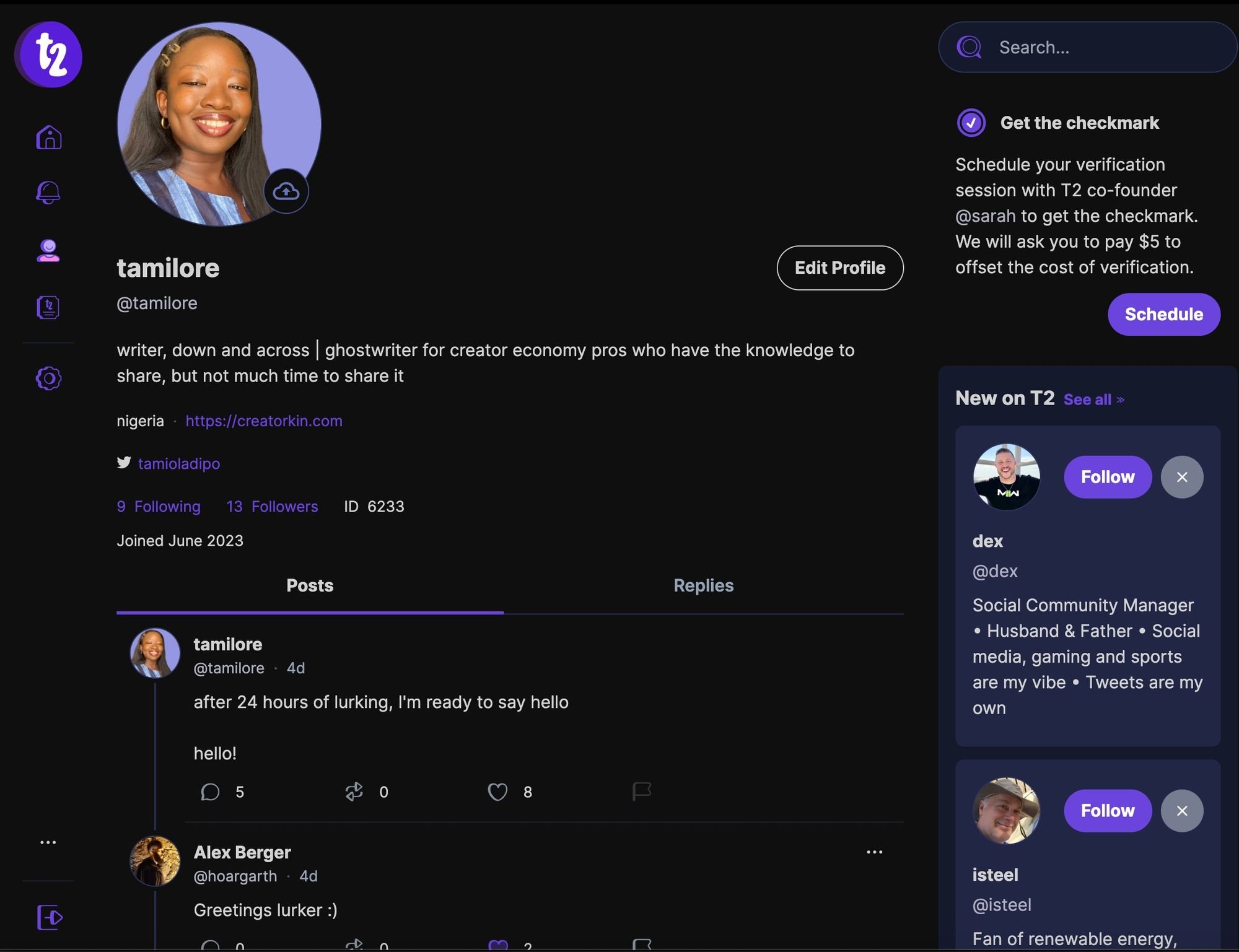 👀
I have access to T2, so leave a comment if you'd like an invite code, and I'll share it with the first commenter!
Some Use Cases
If you're looking for a centralized, clear alternative to Twitter with a simple interface, this is the platform for you
The T2 audience is small, so engagement is high and it's easy to grow a following and connect with like-minded folks with a bit of consistency
Available on: Web | Desktop
Spill
Another entry from ex-Twitter employees, Spill is a social platform launched more recently than any other platform on this list. However, it's the most different from Twitter, as it's visual-first, putting it closer to Tumblr in look and feel.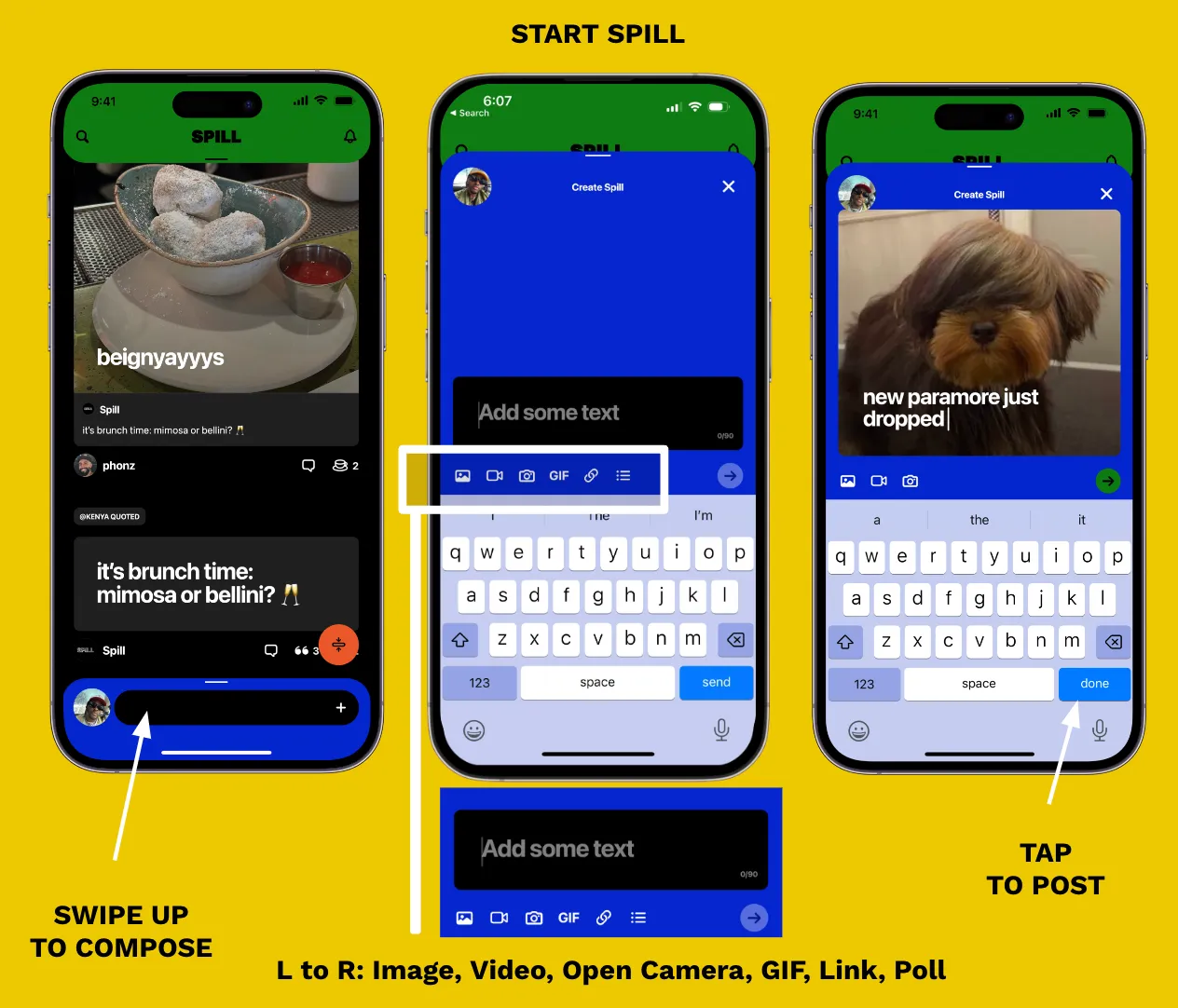 When you open the app, you land on a feed that includes recent posts from people you're "sipping" (the platform's version of following, taken from the Kermit the frog meme) and algorithmically served posts. From there, you can pull down a top menu showing trending posts and hashtags. From the bottom menu, users can post text, gifs, videos, photos, links and polls.
Spill stands out from other platforms, including the ones on this list and its CEO's former company, as a platform that immediately prioritizes diverse communities. CEO Alphonso Terell shared with TechCrunch that the driving ethos behind Spill is that "building for underserved culture drivers would create a superior platform for all."
Spill is still in beta and is invite-only, so I'll have to report back with my observations once I've been given access. Till then, some key things to know about Spill are:
Like Twitter, Spill will have a live news feed where users can post "spills" (the platform's version of posts, taken from the phrase "spill the tea" popularized by Black creators).
It's getting its own large language learning model for better content moderation that will reportedly understand Black dialects like AAVE.
The platform also plans to add blockchain-based creator features in order to reward users who originate viral trends.
It gives users a "rep score" to incentivize good behaviour and create a system for rewarding active users regardless of their audience size.
The platform is building a feature called "tea parties," where users can host both online and offline events and then get in-app bonuses to apply to things like boosting their posts without having to pay.
Available on: iOS (beta)
The future of social media might be decentralized
A common theme across the apps on this list is the focus on decentralization. Users have become increasingly wary of big tech companies and their goals. Worries around data privacy and content moderation are driving user behaviour to platforms where they have more control.
Most of these apps have adopted open-source protocols to improve interconnectedness and allow users to control where they settle on the Internet and how they communicate. Mastodon and Meta's secret project are all built with ActivityPub (which powers the "Fediverse"), while Post intends to adopt it eventually. Meanwhile, Bluesky is built on the ATProtocol, a social networking technology created by the team.
This push towards decentralization means two things for creators (including businesses) and users. One, watching the developments in these apps and technologies is important to understand them better. And two, you must take the time to try them out where you can, especially if users are gravitating towards them.
The more practice you have with using decentralized social networks, the better prepared you are for whatever changes are to come for how we communicate online.
Feature Image Credit: Photo by Christian Lue on Unsplash
Sourced from Buffer