By Alex Christian
Private online communities for like-minded professionals are growing in popularity – and they're being used by employees to land their next role.
In 2015, David Feinman joined a new community of digital marketers on Skype. "It was 200 people bouncing ideas off one another," explains the Pennsylvania-based video-advertising agency owner. "The founder had originally wanted to figure out an SEO [search] problem, so he brought a bunch of SEO workers into one group and had them work on it. After they solved the issue, people brought up other problems to fix; before you knew it, it was a superpower group."
The community switched to messaging platform Slack. Membership soon swelled: thousands of workers began joining. Today, Online Geniuses has 40,000 digital marketers from all over the world. "We have different Slack channels for any type of digital marketing topic," says Feinman, now a partner and moderator of the group. "Every day, people will share their questions, ideas and projects they're working on; if you have a problem, you can be unstuck in minutes."
Online Geniuses also acts as a job board, with a dedicated hiring channel. "Yesterday, we had six vacancies posted," says Feinman. He estimates up to 40 roles are shared on the network every week, with members giving one another a "heads-up" on the latest opportunities at their companies. Contract work is also available. "It can be task-based, where someone is looking for a specific expert to run analytics, and the person who's done it 200 times before replies and gets the work."
Being part of the group can give candidates an edge when it comes to hiring: job-seekers can effectively receive an employee recommendation from within their network or have a head start in the hiring process based on their post history. "Members can make a name for themselves in front of thousands of people, just by helping others out," says Feinman. "We have digital marketers from some of the biggest companies in the world as the peer group."
Personal referrals resulting from networking are often more likely to be hired – Lauren Thomas
Today, there is a growing number of private channels like this that enable professionals to network, problem solve and enhance their careers. Many of these are on Slack, with tech workers particularly utilising the collaboration tool they use every day at work to form online communities. Employees in these networks may increase their chances of landing their next role by forming connections that could potentially fast-track their application, rather than applying via a more traditional recruitment process or platform.
The benefits for these workers seem obvious. But access to closed groups, and their job-seeking opportunities, is ultimately decided by those who control them. As technology's role in recruitment thrives, and demand for employees in certain sectors continues to flourish, these private networks are set to become a more ingrained component of the labour market going forward – with wider implications for the workforce writ large.
'The hidden job market'
Networking and fostering professional relationships have long been key components of a career. So, in some ways, private job networks are nothing new.
Lauren Thomas, European economist at company-reviews website Glassdoor, based in London, says these types of communities have existed in previous guises. "These groups for people with similar professional backgrounds and interests are the online equivalent of inviting your acquaintances to the pub to discuss job opportunities: they're like virtual networking sessions."
Employers have also long taken advantage of these evolving communities, continues Thomas, as it allows them to widen the search for their ideal candidate. "From the classified section in newspapers, to websites and now social media to promote opportunities: every time a technological advance in communication has happened, employers have made use of it."
However, these efforts may have ramped up following the hiring crisis, leading to a spike in vacancies being shared on private networks by employees and hiring managers. "Personal referrals resulting from networking are often more likely to be hired," adds Thomas. "And with current labour shortages, employers are desperate to hire and are looking for any edge they can."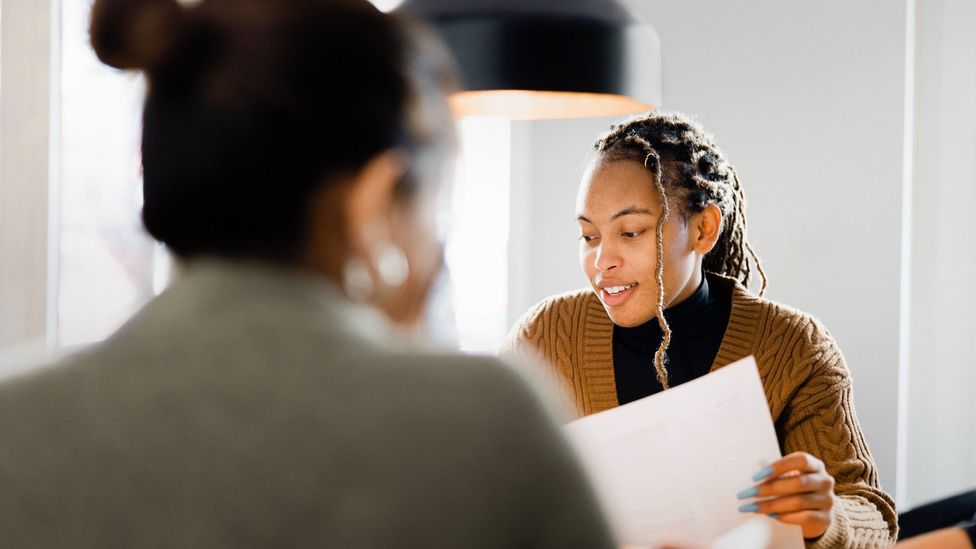 Recruiters move with the times – and will tap into whatever technological or communications advances occur (Credit: Getty)
Kathy Gardner, of remote job-site FlexJobs, based in New York City, describes these closed groups as part of a new "hidden job market": a career opportunity not always posted across job boards, social media or company websites. "While this market once heavily relied on employee connections at a given company or word of mouth," she adds, "advancements in tech and virtual tools have helped create new ways of carrying on the same concept."
The rise of remote working has also boosted the growth of membership-based online groups. Feinman says with fewer opportunities to network in person, employees are looking to do so online instead. "Those that work remotely have lost that ability to have co-workers in their workspace. So, these communities are a super-powerful way of seamlessly connecting over a workday."
For workers granted access to these communities, they not only have a network they can leverage to chat with peers and share knowledge – they also have a job-seeking tool they can utilise at will. "People will look for different specialties within our channel, freelance out work or offer a full-time job," says Feinman. "Tons and tons of jobs have been exchanged within our community."
The wider implications
Thomas believes these private online communities will continue to flourish and become a more ingrained part of job seeking. She says it speaks to a wider trend in how technology is being used in hiring. "It allows both sides of the market to evaluate more potential matches."
While employee referrals have always been a way for candidates to fast-track their job applications, closed groups may have unintended consequences. "Although these online communities are being utilised by some workers, many others don't know these groups exist," says Carly Mednick, chief operating officer at New York-based recruiting company Monday Talent. "There can be a general lack of awareness."
Tons and tons of jobs have been exchanged within our community – David Feinman
Increasingly, recruiters may tap into these networks as a hiring resource. "It's something we'd absolutely consider," says Mednick. "That said, there can be questions around diversity with invite-only channels. There can be a barrier for people who aren't able to get into these communities because although they may be qualified, they may lack the connections to get into the group if it's 'exclusive'."
A closed group means membership ultimately falls under the control of its moderators: the gatekeepers who decide whether an employee can be in a network. Online Geniuses has a 15-person team that runs its community. Feinman says while there is a mix of junior- and senior-level employees, around 25% of applications to the group end up rejected on the basis they don't work within digital marketing. "We have a three-week manual vetting process with a waitlist of a thousand people at any given time. We constantly review profiles to ensure the group has a high quality. If anyone spams or doesn't provide value, they're removed."
However, Feinman adds that access to the community is relatively straightforward and not exclusive. "If you're in digital marketing, it's not that hard to get in. It's important to have people within that discipline and career so you end up with a group of people doing work that you can learn from. We want it to be the future of education for digital marketers: having a strong job network is simply a bonus."
Bonus or not, the hiring crisis has shown workers will always be looking for better ways to find jobs – and that employers will always be looking for better ways to find good candidates. With the labour market still tight, these 'whisper networks' are likely to prove advantageous to both sides going forward.
"The use of these types of platforms for job postings speaks to how the market is shifting from more formal to more casual modes of communication," says Thomas. "It's no surprise both employers and employees see this as a complement to their current job search portfolio."
Feature Image Credit: Getty
By Alex Christian